Infrastructure
Adopt-a-Highway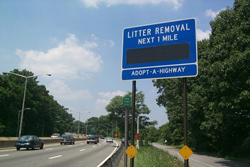 The Adopt-A-Highway program is a tax-deductible opportunity for proud New Yorkers to give back to their community by ensuring clean and beautiful roadways in the New York City area.
Highway can be adopted by individuals, companies, or organizations (but not political candidates and campaigns). Segments can also be adopted in memory of an individual. Signs acknowledging the sponsor will be placed on the adopted roadway segment; however, the Adopt-A-Highway Program is not a forum for advertising or public discourse.
Adopting a highway is an easy way to make a visible impact on your community and show your pride in being a New Yorker.
All highways under NYC DOT jurisdiction are included in the Adopt-A-Highway program. See the list of currently available segments (pdf)
Segments are available on the:
Belt Parkway
Prospect Expressway
Laurelton Parkway
Gowanus Expressway
Brooklyn-Queens Expressway
Long Island Expressway
Jackie Robinson Parkway
Grand Central Parkway
Van Wyck Expressway
Clearview Expressway
Nassau Expressway
Cross Island Parkway
Whitestone Expressway
Hutchinson River Parkway
Bruckner Expressway
Throg's Neck Expressway
Bronx River Parkway
Henry Hudson Parkway
FDR Drive
Harlem River Drive
Major Deegan Expressway
Cross Bronx Expressway
Sheridan Expressway
West Shore Expressway
Richmond Parkway
Staten Island Expressway
Martin Luther King Expressway
Request Information on Adopt-a-Highway
Thank you for your interest.