Public Awareness Campaigns
DOT's public awareness campaigns are vital components of agency initiatives. These campaigns educate New Yorkers on the most important transportation issues, influence attitudes, and shift behaviors.
Speed Camera Expansion Campaign 2019
Speeding is deadly.
The faster a vehicle is moving, the harder it is for the driver of that vehicle to avoid a crash. Even a small difference in speed makes a big impact in terms of safety – a pedestrian who is struck by a vehicle travelling at 30 MPH is twice as likely to be killed as a pedestrian struck by a vehicle travelling at 25 MPH.
Why use speed cameras?
NYC uses a variety of methods to encourage people to drive at safe speeds, including speed bumps, signal timing, narrowing wide travel lanes, and police enforcement. Speed cameras have been proven to save lives. At locations where a speed camera is in use, injuries drop 17 percent, and speeding drops by over 60 percent.
NYC's Speed Camera Enforcement
NYC's speed cameras use the same radar and laser technology relied upon by law enforcement to measure a vehicle's speed. If the radar finds that the vehicle is exceeding the speed limit by more than ten miles per hour, images of the vehicle are recorded along with an image of the license plate. On July 11, 2019, New York City's expanded speed camera law goes into effect. The City will issue violations Monday through Friday, from 6:00 AM to 10:00 PM, year-round. The placement of speed cameras is limited to school speed zones.
It is illegal to speed anywhere within the City of New York. You should always drive at or below the speed limit, regardless of where you are.
Download the speed camera educational campaign in English, Arabic, Bengali, Chinese, French, Haitian-Creole, Italian, Korean, Polish, Russian, Spanish, Urdu or Yiddish.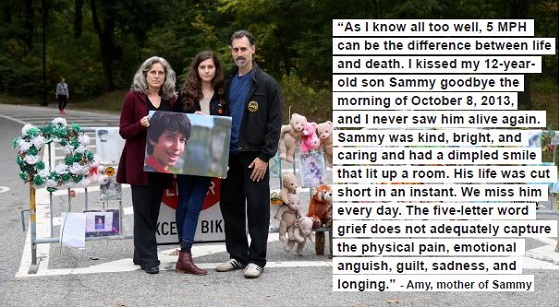 Vision Zero "Signs"
"Signs" is New York City's current Vision Zero public awareness campaign. Comprehensive market research informed the creation of the new campaign, which builds upon Vision Zero's existing communications. "Signs" acknowledges the complexities of driving in a busy urban environment, while recognizing that simple behaviors can ultimately save lives. The effort includes television and radio advertisements as well as a variety of still photographs for outdoor and digital placements. Learn more about New York City's Vision Zero initiative at nyc.gov/visionzero.
Get There
Get There celebrates travelling around town on two wheels, and points out how quick bikes trips can be. With the expansion of the bicycle network on city streets, miles of new greenway paths in public parks, and the introduction of bike share, there have never been more people biking in New York City.
We know you're enjoying the ride, but there's more than just getting there by bike! Check out some common myths and facts about biking, learn the rules of the road, and brush up on safety tips. Biking Myths vs Facts Postcard (PDF) Get There Safely Postcard (PDF) Bike Laws Postcard (PDF)
"Work Zone Heroes"
Each spring, the U.S. Department of Transportation and the Federal Highway Administration observe National Work Zone Awareness Week to bring national attention to motorist and worker safety in work zones. DOT will hold a press conference and place a variety of advertisements to raise driver awareness and decrease crashes in work zones. National Work Zone Awareness Week 2018 is April 9-13.
Work Zone Facts at a Glance
On average, 700 work zone fatalities occur nationwide every year.
More than 35,000 people are injured each year as a result of motor vehicle crashes in work zones.
Nearly four in five victims in work zone crashes are drivers and passengers.
25 NYC DOT workers have been injured in work zone incidents since 2009.
Tips on Driving Safely in Work Zones
Drive within the posted speed limits and avoid all distracting activities.
Pay close attention to merge signs, and do not change lanes within the work zone.
Watch out not only for workers in the zone, but also for their equipment.
Be patient and remember that the work zone crew members are working to improve our roads for our safety and convenience.
DWI Awareness "Choices"
DOT's anti-DWI campaign "Choices" presents the viewer with two options: a safe trip home or a consequence of drinking and driving. "Choices" compels personal accountability and empowers the driver to make his/her own choice.
Vision Zero "Your Choices Matter" 2014-2017
Through attention-grabbing graphic design, "Your Choices Matter" depicts the aftermath of collisions, brings to light the seriousness of traffic crashes, and identifies the key behaviors that contribute to pedestrian fatalities.
"Reckless Driving Kills" 2014
Crashes resulting from speed, failure to yield to pedestrians in the crosswalk, and distracted driving have devastating effects on families. "Reckless Driving Kills" captures the images of grieving family members at the fatal crash sites of their loved ones, asking New Yorkers to slow down and drive with caution.