Secure Detention Facilities
In 1998, the New York City Department of Juvenile Justice (DJJ) opened two state-of-the-art juvenile detention centers. Characterized by locks on the doors and other hardware designed to restrict the movement of the residents and protect public safety, the facilities were planned with staff input to enhance residents' overall security, while allowing for quality programming. Horizon Juvenile Center, located in the Mott Haven area of the Bronx, opened on January 18, 1998. The Brooklyn facility, Crossroads Juvenile Center, opened on August 1, 1998.
Secure detention is a facility characterized by locks on the doors and other restrictive hardware designed to restrict the movement of the residents and protect public safety. DJJ's secure detention program aims to give youth the chance to make positive change in their lives. Detention is viewed as a time to provide education, medical, mental health, case management and other much-needed services. The facilities and their programs are an internationally recognized model for juvenile detention.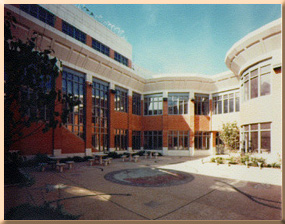 DJJ believes that the success of its work with juveniles in detention relates in part to our ability to maintain an atmosphere where youth feel safe and trust the adults who care for them. We also believe that youth must learn that, in any setting or situation, they will be held accountable for their actions. By their very design, the facilities reinforce these beliefs and foster positive relations between staff and youth.

The facilities, which opened in 1998, were planned to incorporate and enhance DJJ's programmatic goals and support the Agency's agenda of preventing juvenile delinquency. The design by architects Kaplan McLaughlin Diaz maximized the use of natural light and space by utilizing a center courtyard. Interior visibility and natural light create an open, non-institutional environment and enhance program options. Administrative offices have large windows and are adjacent to the living and program areas of the buildings. This design feature allows administrative staff and Case Managers to have additional visual contact with youth which enhances supervision.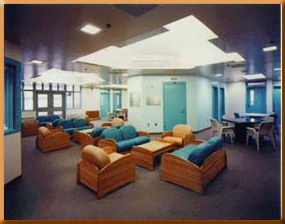 Facts about the New Facilities
The new facilities are modern, low-rise buildings designed to resemble schools or community centers. Each facility has 124 beds.
Crossroads Juvenile Center is located at 17 Bristol Street between East New York and Pitkin Avenues in Brooklyn Community District #16.
Horizon Juvenile Center is bound by Brook Avenue, Westchester Avenue, St. Ann's Avenue and East 149th Street, and is located in Bronx Community District #1.
The facilities are secure and self-contained, with all services provided within the buildings , including school, meals, recreation and 24-hour-a-day health care.
The facilities were designed to prevent any verbal or visual contact between detained youth and passersby on the streets.
Residents enter and leave the facilities only when escorted by the police or DJJ staff in secure vans.
Both Crossroads and Horizon Juvenile Centers have an easily accessible meeting room that is available for use by community groups.
Each facility is outfitted with outdoor yards, a college-size gymnasium, computer room, chapel and dining hall.
Living areas are halls with eight or 16 bedrooms, bathrooms and a day room.