News
FOR IMMEDIATE RELEASE
June 9, 2015
Bellevue Hospital Center Receives honors for Quality in Cardiac and Stroke Care
Get With The Guidelines® Heart Failure Gold Plus, Resuscitation Silver and Stroke Silver Plus Achievement Awards demonstrate Bellevue's commitment to enhanced patient outcomes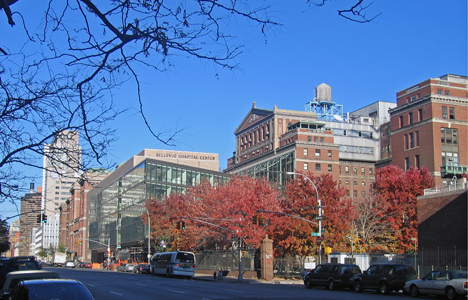 (New York, NY) Steven Alexander, Executive Director of the New York City Health and Hospitals Corporation (HHC) Bellevue Hospital Center, announced today that HHC Bellevue has received three awards from the American Heart Association/American Stroke Association's "Get with the Guidelines"® (GWTG) Program in recognition of excellent patient outcomes for both cardiac and stroke care.
[an error occurred while processing the directive]
"These recognitions for top quality cardiac, resuscitation and stroke achievements validate Bellevue's role as a leader among hospitals and underscore our dedication to provide the best outcomes for our patients," said Mr. Alexander. "I am proud of the Bellevue staff for its commitment to providing exceptional care for our patients."
For the second year in a row, Bellevue has won the GWTG top award for heart failure, the "Heart Failure Gold Plus Achievement Award," which recognizes Bellevue for achieving 85% or higher compliance with five heart failure guidelines leading to the improvement of quality patient care and outcomes, including proper assessment of left ventricular function in patients and prescription of appropriate medications.
Bellevue also received the GWTG "Resuscitation Silver Achievement Award," a new honor for the cardiology team that recognizes Bellevue for achieving at least 85% compliance with four resuscitation achievement measures in its adult patient population during 12 consecutive months.
The hospital also received the GWTG "Stroke Silver Plus Achievement Award," which cites Bellevue for meeting specific quality achievement measures for the rapid diagnosis and treatment of stroke patients at a set level for a designated period, improving the lives of stroke patients. The award requires 85% or higher compliance for one year with all seven of the Association's stroke achievement measures, including aggressive guidelines for the use of certain medications, and encouraging patients to enroll in smoking cessation and other secondary stroke prevention programs to improve patient outcomes.
Norma Keller, MD, Chief of Cardiology for Bellevue Hospital Center, said, "These awards are a testament to the great team of experts we have and the collaboration across departments, always striving to provide the highest quality care for our patients. It's rewarding to see the positive outcomes of our joint efforts."
"We are pleased to recognize Bellevue for its commitment and dedication to heart failure, resuscitation and stroke care," said Nancy Brown, Chief Executive Officer of the American Heart Association and co-chairman of the Get With The Guidelines steering committee of the Coalition to Transform Advanced Care. "Studies have shown that when medical professionals apply the most up-to-date evidence-based treatment guidelines, patient outcomes improve and patient length of stays are significantly reduced."
The Get With The Guidelines program is a hospital-based quality improvement initiative created by the American Heart Association (AHA) and the American Stroke Association (ASA) to improve the care of patients with cardiac diseases and stroke.
[an error occurred while processing the directive] [an error occurred while processing the directive]