For Interns & Residents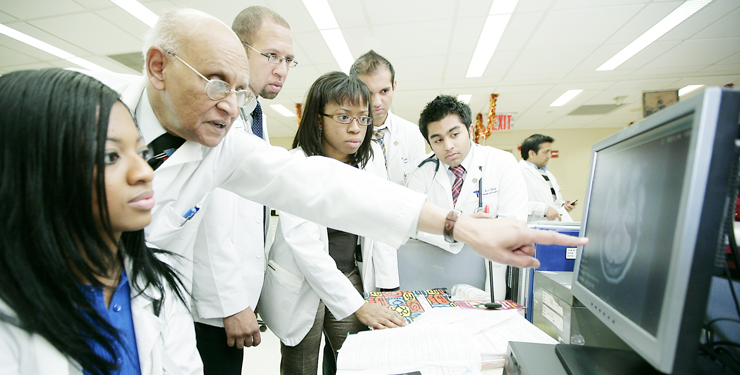 A Unique Teaching Hospital Environment
The New York City Health and Hospitals Corporation's 11 acute care teaching hospitals and vast network of outpatient primary care community health centers serve as a training ground for thousands of medical students, residents, fellows, young physicians and other health professionals each year. At HHC, physicians-in-training who come from the most prestigious medical schools in the region benefit from non-stop immersion and hands-on-experience in caring for patients. Those who train in our healthcare facilities learn to practice with compassion and cultural sensitivity in one of the most exciting healthcare environments in the United States.
Residency Program
HHC is committed to providing residents and fellows with a unique and meaningful experience and the support they need to make their training valuable. HHC residents have a chance to do more than hone in their medical skills by apprenticing with seasoned physicians and surgeons. Because of HHC's diverse patient population and communities served, residents also have the exceptional opportunity to improve their interpersonal and cross-cultural communications skills that is fundamental to serving in a safety net healthcare setting.
HHC hosts a large graduate medical education program for nearly 5,000 residents every year and offers residency and clinical fellowships in dozens of specialty and subspecialty fields, including:
| | |
| --- | --- |
| Internal Medicine | Emergency medicine |
| Geriatrics | Pediatrics |
| Cardiology | Psychiatry |
| Obstetrics-Gynecology | Anesthesiology |
Our seasoned staff supervisors work with residents, fellows, program directors and our affiliation partners from prestigious academic medical centers to provide excellent residency education while ensuring the quality and safety of patient care provided by residents.
Individuals interested in applying for a residency position at HHC must contact the academic institution's residency or fellowship programs directly.
To learn more about graduate medical education residency programs, visit:
Medical Education
In addition to the post-graduate training programs, HHC also hosts medical school internship programs for nearly 2,000 third and fourth year medical school students doing clinical rotations at our hospitals every year. Our medical school partners for this program include NYU, Mount Sinai, New York Medical College, Einstein College of Medicine, Columbia, SUNY, the New York College of Osteopathic Medicine and St. George's University Medical School.
Learn about the "CityDoctors" medical school scholarships for New Yorkers who commit to practice primary care in an HHC hospital
Graduate Medical Education program contacts at HHC
Bellevue Hospital Center
Dr. Michael Ambrosino, Assoc Dean, GME/DIO/Radiology Program Director, 212-263-6369
Deborah Considine, GME Sr. Administrator, 212-263-0351
Ivonne Monterrey, GME Administrative Coordinator, 212-263-0368
Coney Island Hospital
Dr. Robert Cuccu, GME Chair/DIO, 718-616-3786
Sharon Walder, Medicine Residency Coordinator, 718-616-3779
Liz D'Amato, Medical Education Coordinator
Harlem Hospital Center
Gloria Morales-Ortiz, GME Administrator/DIO, 212-939-4248
Dr. Albert Adu, GME Chair/Surgery Program Director
Jacobi Medical Center
Victoria Hibbitt, Assoc. Dir., Medical Staff Affairs/House Staff Affairs, 718-918-5006
Astrid Carl, Director of Medical/House/Allied Health Professional Staff, 718-918-3230
Dr. Auxford Burks, GME Chair/Pediatrics Program Director
Kings County Hospital Center
Vivienn Beckford, Assoc. Dir., House Staff Affairs, 718-245-3908
Janice Clarke, House Staff Affairs Coordinator, 718-245-2027
Lincoln Medical and Mental Health Center
Lisa Garrow, GME Administrator, 718-579-5396
Dr. Tranice Jackson, GME Chair/DIO, 718-579-5584
Metropolitan Hospital
Madeline Mendez, GME Administrator, 212-423-6271
Woodhull Hospital
Chermaine Cross, Assoc. Dir., GME, 718-963-8715