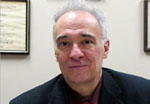 An era of change has entered the doors of Dr. Susan Smith McKinney Nursing & Rehabilitation Center. Our community, residents and registrants have also witnessed this evolutionary change.
DSSM has embarked on an exciting, innovative approach to care-giving by promoting a more home-like environment for our residents and registrants. At DSSM we encourage our clients' involvement in their daily care by including them in decision making concerning their daily routine and activities of daily living. Our residents, registrants and staff are energized by this shift from traditional institutional care to person-centered care and services.
We have designed a variety of long-term services which includes skilled nursing care, sub-acute care, short-term rehabilitation, therapeutic recreation, hospice care, diabetes management and two adult day health care community based programs.
Dr. Susan Smith McKinney Nursing and Rehabilitation Center is a place where ambience is home-like and care and services are provided by our interdisciplinary team of compassionate and committed professionals.
We cordially invite you to call our Admissions Department at (718) 245-7105 for a guided tour of our home.
Sincerely yours,
Michael Tartaglia, MPA, LNHA
Executive Director
Dr. Susan Smith McKinney Nursing & Rehabilitation Center