News
FOR IMMEDIATE RELEASE
May 20, 2015
HHC Honors Superior Physicians During Annual "Doctors' Day" Celebration
Staten Island Physician Among 24 HHC Staff to Receive "Doctors' Day" Award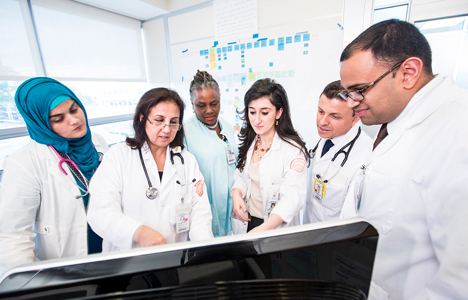 (Staten Island, NY – May 20, 2015) The New York City Health and Hospitals Corporation (HHC) today honored Maria Josefina A. Pablo, MD, CMD, Medical Director of Sea View Rehabilitation Center & Home, during a ceremony marking Doctors' Day 2015. A total of 24 Physicians from HHC's hospitals, community clinics, home health services, and MetroPlus Health Plan were recognized for their leadership and commitment to advancing the mission of the public hospital system and providing the highest quality healthcare to New Yorkers. The physicians honored today also represent HHC's diverse workforce and ability to provide culturally competent care with the knowledge and sensitivity needed to serve our patients.
"In today's rapidly changing healthcare environment, patients have more options when choosing their healthcare providers. Patients want to be heard and their expectations are high," said HHC President Dr. Ram Raju. "The physicians honored today are just a few of the outstanding doctors throughout our organization that provide high-quality, patient-centered health services every day to heal and empower their patients to live their healthiest lives possible. I am proud of their leadership, compassion, and motivation to provide our patients with the best experience possible."
Dr. Pablo joined Sea View Rehabilitation Center & Home in 2001 as an Attending Physician for the Traumatic Brain Injury Unit and Occupational Health Services. In 2004, she served as the lead physician during the launch of Sea View's palliative care program; that same year she was recognized as Sea View's Doctor of the Year. In 2006, she became the Medical Director at Sea View, pushing forward numerous initiatives. Under her leadership, Sea View won the 2010 AMDA Foundation/Evercare award for Palliative Care and the 2014 AMDA Quality Improvement and Health Outcome Award for reducing antipsychotic medications.
Dr. Pablo completed her medical degree at the University of Santo Tomas in the Philippines. She completed her residency in internal medicine at Lutheran Medical Center in Brooklyn. She is board certified in internal medicine and a Certified Medical Director through the American Medical Directors Association. Dr. Pablo is a member of HHC's Council of Medical Directors, the American Medical Directors Association, and the Clinical Society of Sea View.
The awards were presented at HHC's annual National Doctors' Day Ceremony, held at Baruch College in Manhattan. The award-winning physicians represent New York City residents' diverse ethnicity, and vary in age, education, specialties and years of service.
[an error occurred while processing the directive]