News
FOR IMMEDIATE RELEASE
May 20, 2015
HHC Honors Superior Physicians During Annual "Doctors' Day" Celebration
Eight Manhattan Physicians Receive "Doctors' Day" Awards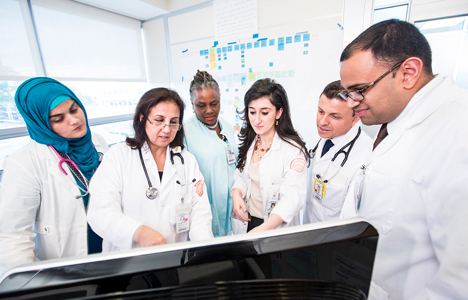 (Manhattan, NY – May 20, 2015) The New York City Health and Hospitals Corporation (HHC) today celebrated eight Manhattan physicians during a ceremony marking Doctors' Day 2015. A total of 24 Physicians from HHC's hospitals, community clinics, home health services, and MetroPlus Health Plan were recognized for their leadership and commitment to advancing the mission of the public hospital system and providing the highest quality healthcare to New Yorkers. The physicians honored today also represent HHC's diverse workforce and ability to provide culturally competent care with the knowledge and sensitivity needed to serve our patients.
"In today's rapidly changing healthcare environment, patients have more options when choosing their healthcare providers. Patients want to be heard and their expectations are high," said HHC President Dr. Ram Raju. "The physicians honored today are just a few of the outstanding doctors throughout our organization that provide high-quality, patient-centered health services every day to heal and empower their patients to live their healthiest lives possible. I am proud of their leadership, compassion, and motivation to provide our patients with the best experience possible."
The awards were presented at HHC's annual National Doctors' Day Ceremony, held at Baruch College in Manhattan. The award-winning physicians represent New York City residents' diverse ethnicity, and vary in age, education, specialties and years of service.
The 2015 Manhattan honorees are:
HHC Doctors' Day Awards – Manhattan
Kathie-Ann Joseph, MD, MPH, FACS, Chief, Breast Surgery Service, Bellevue Hospital Center
William Dinan, MD, Director, Pulmonary Medicine, Coler Nursing Facility/The Henry J. Carter Specialty Hospital and Nursing Facility
Tze-Jung (Judy) Su, MD, Primary Care Physician, Gouverneur Diagnostic & Treatment Center
Joseph Poon, MD, Attending Physician, Gouverneur Skilled Nursing Facility
Mary Marron-Corwin, MD, FAAP, Chief of Pediatrics, Director of NICU, Harlem Hospital Center
Samrina Kahlon, MD, Patient Safety Officer, Metropolitan Hospital Center
Jean-Marie Harold Claude, MD, Chief of Internal Medicine, Renaissance Health Care Network Diagnostic & Treatment Center
HHC Doctors' Day Award – HHC Health & Home Care
Bredy Pierre-Louis, MD, FACC, Assistant Professor of Clinical Medicine Division of Cardiology, Harlem Hospital Center
[an error occurred while processing the directive]