Emergency Services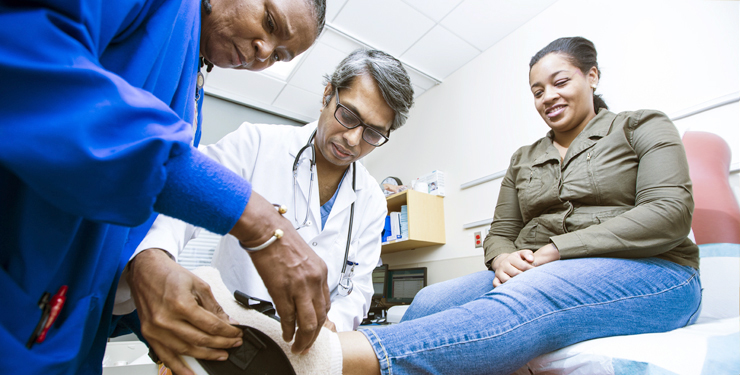 HHC's 11 hospitals have the most expert emergency room staff in New York City who know how to quickly diagnose and treat a medical or psychiatric condition, a serious wound or injury. Six of our emergency departments are designated Regional Trauma Centers and are specially equipped to respond to the most challenging life-threatening situations. We treat all patients who come through our emergency doors, regardless of their ability to pay.
Emergency Care for Children and Adults
HHC emergency department teams manage nearly 1.2 million emergency visits annually. Our emergency rooms offer a variety of specialized services:
Emergency Services for Children and Adults – Every HHC hospital has full service emergency departments staffed by the most experienced emergency care physicians, nurses, social workers and other healthcare professionals who care for patients of all ages.
Psychiatric Emergency Services -- Regular emergency departments are typically not optimally equipped to deal with psychiatric emergencies. At HHC, our 11 hospitals offer specialized care for the evaluation and treatment of psychiatric crises. Patients of any age can be quickly assessed and stabilized, and referred to the appropriate inpatient service or outpatient resources.
Comprehensive Psychiatric Emergency Programs (CPEP) in New York City
HHC has six specialized CPEP programs that are designed to provide the best environment for the evaluation and treatment of psychiatric crises, including suicidal or aggressive behavior, depression, and psychosis. The programs offers a discrete space that meets safety standards for psychiatric patients and also offer extended observation for patients who need crisis stabilization without requiring inpatient admission.  
HHC has Comprehensive Psychiatric Emergency Programs at:
Trauma Care in New York City
A trauma is a life or limb-threatening injury or wound that needs immediate attention by a team of expert healthcare professionals. Traumas can happen anywhere and at any time and may be caused by motor vehicle accidents, sporting accidents, falls and fire arms accidents and assaults. Many injuries can be treated at the nearest hospital's emergency room. However, life-threatening traumatic injuries need specialized care from the staff at a specialized trauma center.
HHC Regional Trauma Centers:
Learn more
HHC can help you avoid the emergency room and help keep you healthy. Learn more about the primary and preventive health services available in our Patient-Centered Medical Homes.