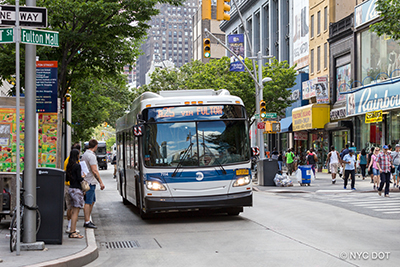 Busways are designed to improve bus speed and reliability to benefit the passengers who rely on transit to get around the city. Significant bus travel time savings may be achieved by dramatically reducing traffic volumes.
Most busways offer transit and freight priority, allowing buses and trucks to travel along the entire corridor. For other vehicles, such as taxis and cars, travel through the busway corridor is restricted, but essential local access is typically maintained in some form.
NYC Busways2>

Serves approximately 28,000 weekday riders
Pilot project began October 2019
Busway between Third and Ninth Avenues became permanent June 2020
Buses and trucks only, 6AM to 10PM daily
Local traffic may enter but must turn at next available right

Fulton Street Busway, Brooklyn

Serves approximately 40,000 weekday riders
Busway between Adams Street and Flatbush Avenue dates to 1970s
Dense commercial corridor with lots of pedestrians
Restricted to buses only; truck loading zones are provided on adjacent streets
All vehicles may use small sections of Fulton Street to make north-south connections

Main Street Busway, Queens (upgrades underway)

Serves approximately 150,000 weekday riders
Southbound busway between 37th Avenue and 40th Road began March 2017
NYC DOT will add a busway to northbound Main Street from Kissena Boulevard to Northern Boulevard in Summer 2020

NYC Busways in Development
NYC DOT will engage with stakeholders on an ongoing basis to guide the implementation and evaluation of the following new busways.
Fifth Avenue Busway, Manhattan (in development)
Serves approximately 75,000 weekday riders
Busway from 57th Street to 34th Street scheduled to be installed in Summer 2020
Jamaica Avenue Busway, Queens (in development)
Serves approximately 150,000 weekday riders
Busway from Sutphin Boulevard to 168th Street scheduled to be installed in Summer 2020
Jay Street Busway, Brooklyn (in development)
Serves approximately 43,000 weekday riders
Busway from Tillary Street to Livingston Street scheduled to be installed in Summer 2020
181st Street Busway, Manhattan (in development)
Serves approximately 110,000 weekday riders
Busway from Amsterdam Avenue to Broadway scheduled to be installed in Fall 2020