How to Use 14th Street
|
Background
|
Community Outreach & Reports
|
FAQ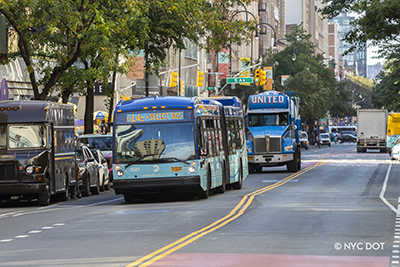 Manhattan's 14th Street is a major connector between the Lower East Side, Union Square and the Meatpacking District. The 14th Street Busway is designed to prioritize moving the most people and goods safely and reliably, while still providing local access for all roadway users.
Every day between 6 AM and 10 PM, only buses, trucks and emergency vehicles may travel along Manhattan's 14th Street between 3rd Avenue and 9th Avenue. All other vehicles may make local trips to access businesses, residences and garages along 14th Street, but drivers must make the next available right turn.
Between 10 PM to 6 AM, all vehicles may make thru trips along 14th Street.
How to Use 14th Street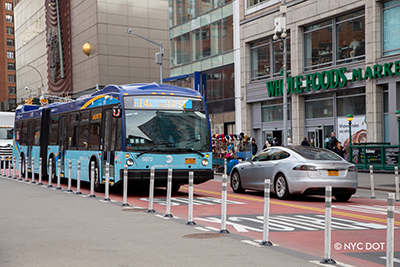 6 AM To 10 PM
Only buses and trucks may make thru trips between 9th Avenue and 3rd Avenue.
All other vehicles may make local trips to access the curb and garages, but must turn at the next available right.
Commercial vehicles may load and unload in short-term metered loading zones.
Passenger vehicles may drop-off and pickup all along the corridor.
10 PM To 6 AM
All vehicles may make through trips along the corridor.
No Parking regulations allow expeditious loading and unloading along the corridor.
All Times
All vehicles are restricted from making left turns off of 14th Street (except MTA buses at signed locations).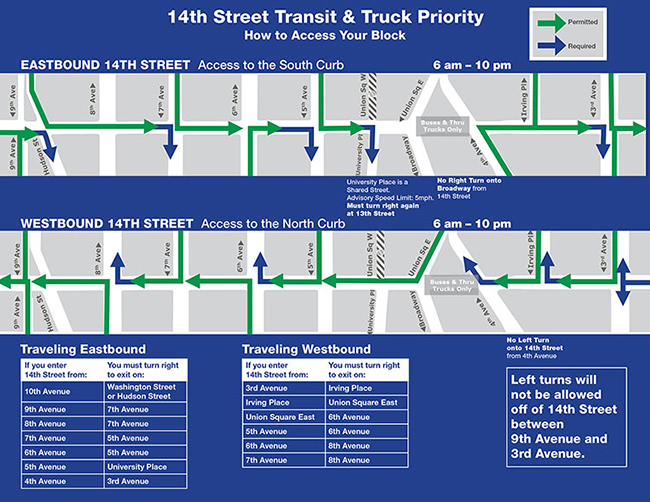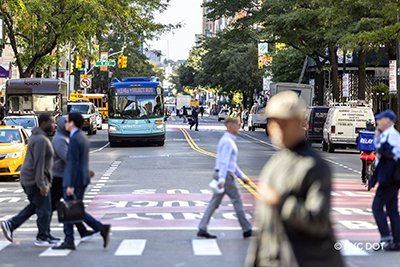 Background
After a successful pilot, the popular 14th Street Busway was made permanent in June 2020, with a plan to extend bus lanes east.
The 14th Street Busway pilot, formerly known as the 14th Street Transit and Truck Priority Pilot Project, has received international attention, as it has successfully increased bus speeds by as much as 24% and ridership by as much as 30%.
NYC DOT began to pilot a Transit and Truck Priority design on 14th Street on October 3, 2019. The pilot project aimed to launch in coordinate with M14A/D Select Bus Service, which began on July 1, 2019.
The project, which serves approximately 28,000 daily M14 riders, combines blocks of exclusive access and standard bus lanes to provide bus priority from 9th Avenue to 1st Avenue.
Better Buses Restart: Mayor de Blasio Announces Major Projects to Speed Buses During City's Phased Reopening (June 4, 2020)
Mayor de Blasio Releases First 14th Street Busway Report (December 18, 2019)
NYC DOT and MTA NYC Transit Continue Successful Rollout of 14th Street Transit Priority with New Bus Boarding Platforms and Sidewalk Widening (November 6, 2019)
Mayor de Blasio Announces that 14th Street Busway Takes Effect Today (October 3, 2019)
Statements from Mayor de Blasio and Commissioner Trottenberg on 14th Street Busway (September 27, 2019)
Mayor de Blasio Announces Project to Get New Yorkers Moving on 14th Street (April 24, 2019)
Community Outreach and Reports
Monitoring Report & Online Survey
Independent monitoring report and online survey of the 14th Street Transit & Truck Priority Pilot Project by Sam Schwartz Engineering
Stakeholders
Community groups and local stakeholders provided valuable input on the 14th Street Transit and Truck Priority Pilot Project and M14A/D SBS planning process. NYC DOT and MTA made presentations to these groups to share information about SBS and received feedback throughout the planning process.
Brochure
14th Street Busway Brochure (pdf updated October 2019)
Frequently Asked Questions
Where can I be dropped off or picked up?
Pickups and drop-offs are allowed throughout the corridor; drivers are responsible for following traffic rules. For some, it may be faster to arrange for pickup or drop-off at the closest adjacent avenue.
Why are left turns banned?
Left turn bans keep buses from getting stuck behind turning vehicles and increase pedestrian safety; left turns are associated with high rates of pedestrian injuries.
Why are trucks allowed?
14th Street is a designated truck route. Allowing trucks helps to limit truck traffic on side streets.
Which vehicles are considered trucks?
Any vehicle that has more than two axles OR six or more wheels is considered a truck.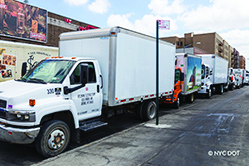 Where is commercial loading allowed?
Short-term loading zones are provided along the corridor every day from 6 am to 10 pm; meters are in effect Monday to Saturday.
How is the busway enforced?
Restrictions are enforced through automated cameras along 14th Street. NYPD traffic agents may also issue summonses.
How is 14th Street Busway enforced?
Automated cameras along 14th Street monitor proper use of the busway and NYPD traffic agents may also issue summonses.
How are curb regulations enforced?
Curb regulations are enforced by NYPD traffic agents; automated cameras may only be used for bus lane enforcement.
Contact Us
Select Bus Service is a joint project of NYC DOT and MTA New York City Transit (NYCT). Like other bus service, M14A/D Select Bus Service is operated by NYCT. If you have questions or comments about the M14A/D Select Bus Service, including bus schedules, fare collection machines, fare enforcement, or general MTA issues (Metrocard, subway) please contact the MTA online or call 511.

If you have a transportation-related problem, comment or question about the 14th Street Busway, contact the Commissioner online,or send a letter.