Woodside-Jackson Heights Airport Connector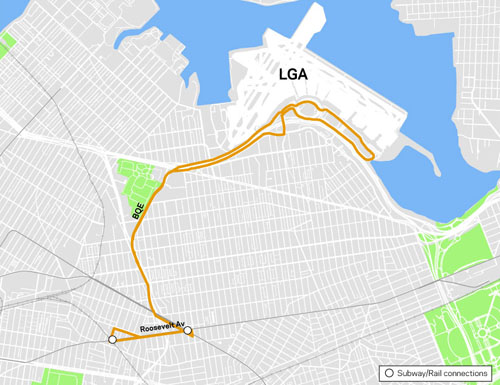 MTA Bus Company and New York City Department of Transportation (DOT) propose adding a new bus service with limited stops from Woodside and Jackson Heights connecting five subway lines (E, F, M, R, 7) and Long Island Rail Road to LaGuardia Airport directly via the Brooklyn-Queens Expressway, avoiding local narrow residential streets. Local routes currently serving the airport would be adjusted to better serve Jackson Heights and East Elmhurst, while also providing connections to LGA.
This new direct service would be over 40% faster than current bus routes from Jackson Heights (saving about 10 minutes, with high reliability), and over 40% faster from Penn Station via Long Island Rail Road (saving almost 20 minutes) at Woodside.
The plan does not propose bus service for any roads that do not already have it, other than the BQE and a portion of Broadway between the BQE and Roosevelt Avenue.
This route concept was developed as part of the LaGuardia Airport Alternatives Analysis.
MTA Bus and DOT intend to implement this new direct service in 2013.