News
FOR IMMEDIATE RELEASE
August 6, 2015
Ten Doctors from HHC Bellevue Hospital Center Named among Top Physicians in the Tri-state Area by New York Magazine
Bellevue Physicians ranked among best in their medical specialties and subspecialties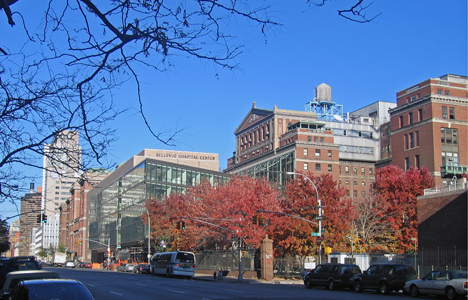 (New York, NY – August 5, 2015) Ten physicians from the New York City Health and Hospitals Corporation's Bellevue Hospital Center have been named among the best doctors in the New York metropolitan area in a survey of their peers published by New York Magazine. In the magazine's annual "Best Doctors" issue, the Bellevue doctors were among 1,282 physicians deemed superior in New York, New Jersey and Connecticut in an online poll of licensed physicians.

According to New York, doctors named to its "Best Doctors" list represent the top 10% of doctors in the area in 67 medical specialties and subspecialties for the care and treatment of more than 1,800 diseases and medical conditions.

The HHC Bellevue doctors are:
Alec J. Megibow, MD (Diagnostic Radiology)
Susan B. Zweig, MD (Endocrinology, Diabetes & Metabolism)
Glenn S. Hirsch, MD (Child & Adolescent Psychiatry)
Michael J. Attubato, MD (Interventional Cardiology)
Howard B. Ginsburg, MD (Pediatric Surgery)
Firas F. Mussa, MD (Vascular Surgery)
Ronit Herzog, MD (Pediatric Allergy & Immunology)
Russell S. Berman, MD (Surgery)
Howard Trachtman, MD (Pediatric Nephrology)
Alec S. Goldenberg, MD (Hematology)
"Bellevue Hospital has a highly-skilled, extremely talented pool of physicians in every service of medical care," said Dr. Joseph Carter, Associate Medical Director of HHC Bellevue Hospital Center. "We treat patients with every medical and mental health need, from all walks of life, and everyone gets the same level of expert, compassionate care." Bellevue has an academic affiliation with the New York University School of Medicine.

In collaboration with Castle Connolly, a New York City research and information company, New York Magazine begins its best doctors' selection a year in advance. Each doctor's education, training, hospital affiliation, board certification, and disciplinary history are reviewed before he or she can be considered for the top physicians list. Participating physicians are asked to nominate doctors who they consider best in their field and related fields, taking into account not only professional qualifications and reputation, but also skills in dealing with and communicating with patients.
[an error occurred while processing the directive] [an error occurred while processing the directive]