Gouverneur Health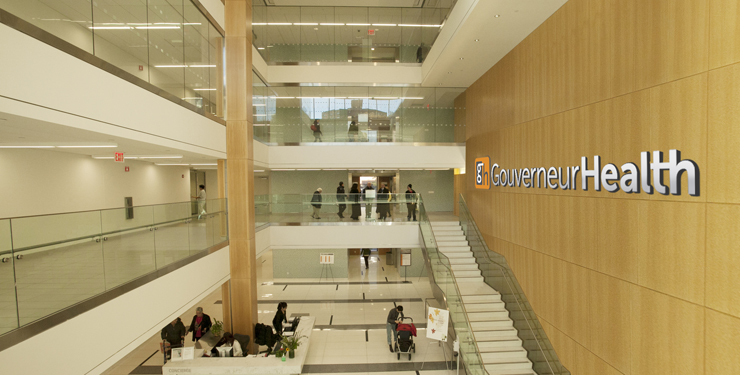 You can find quality, affordable and personalized care right in the Lower East Side and the surrounding communities of Chinatown and other parts of Lower Manhattan. The Gouverneur Health Diagnostic and Treatment Center provides the full spectrum of care for children and adults. Our dedicated staff emphasizes primary and preventive care, working with you to help you achieve your health goals. Our academic affiliation with NYU Medical School supplies us with top-notch physicians who are committed to public health. For more information, visit our website nyc.gov/gouverneur.
Patient-Centered Healthcare in Lower Manhattan
We deliver patient-centered, effective and cost-efficient health services. As part of our patient care, we appoint a personal healthcare provider for each patient. The healthcare provider serves as a care coordinator, working with the primary care physicians, nursing staff, social workers and nutritionists to ensure that we meet your medical, psychological and emotional needs. Your healthcare team is always available for you, and you can reach us at any time of day or night.
Our healthcare services include:
Child Health Services
Mental Health Services
HIV/AIDS Testing and Treatment
Pregnancy testing
Well-child care
Dental services
Outpatient Surgery

Adolescent Health Services
Diabetes Care
Women's Health Services
Prenatal care
Cancer screening
Immunizations
9/11 related health services
Prevention and treatment for chronic illnesses such as asthma, diabetes and hypertension Referrals to inpatient hospital care and dozens of specialty services provided by the NYC Health and Hospitals Corporation.
Special Healthcare Programs at Gouverneur Health
Our experienced staff has developed special programs to address the needs of our community. We believe that healthcare extends beyond the four walls of our hospital. We respond to local health concerns through many forms of community involvement. Our specialty programs include:
Ear, nose and throat - Our physicians provide the latest treatment for sinus disease, snoring, sleep disorders, voice problems, tonsillitis, nose bleeds, breathing conditions, sore throats, dizziness, vertigo, difficulty swallowing, ear ringing, hearing and airway obstruction.
Rehabilitation – We offer patients who have suffered illness or injury with specialized therapies to restore function and improve independence as quickly and safely as possible.
Hearing, Speech and Language Department - We provide a wide range of evaluation and therapy services to patients from newborns to older adults. Therapists perform on-site testing to diagnose speech, hearing and communication problems and determine the appropriate course of therapy for each patient. Our multilingual staff enables us to provide care to English, Spanish, Cantonese and Mandarin speaking patients.
Surgery – We offer expert outpatient treatment for patients who have conditions ranging from burns and wounds to tumors, ulcers and traumas.
9/11 Health Services – Gouverneur is home to the New York City Health and Hospitals Corporation's World Trade Center Environmental Health Center providing treatment, with no out of pocket cost, for residents, cleanup workers, area employees, students and others who suffer health effects related to the events of 9/11.
Learn more about your rights as a patient in any of our hospitals or health centers.
Contact Us
Gouverneur Health
227 Madison Street
New York, NY 10002
To Schedule an Appointment: 212-238-7897
For General Information: 212-238-7000