Segundo Ruiz Belvis Diagnostic &
Treatment Center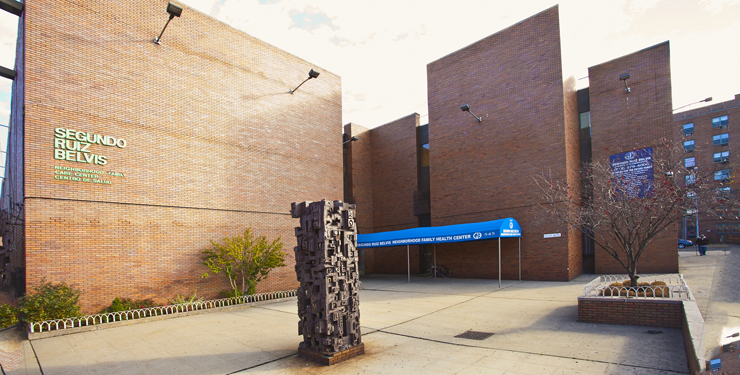 You can find quality, affordable and personalized care right in your own neighborhood of the South Bronx. For a quarter of a century, the Belvis center has provided the full spectrum of care for children and adults. Named for Segundo Ruiz Belvis, the revered Puerto Rican humanitarian, our center emphasizes primary and preventive care, working with you to help you achieve your health goals.
Patient-Centered Healthcare in the Bronx
We deliver patient-centered, effective and cost-efficient health services. As part of our patient care, we appoint a personal healthcare provider for each patient. The healthcare provider serves as a care coordinator, working with the primary care physicians, nursing staff, social workers and nutritionists to ensure that we meet your medical, psychological and emotional needs. Your healthcare team is always available for you, and you can reach us at any time of day or night.
Our healthcare services include:
Child Health Services
Mental Health Services
HIV/AIDS Testing and Treatment
Pregnancy testing
Well-child care
Dental services
Adolescent Health Services
Diabetes Care
Women's Health Services
Prenatal care
Cancer screening
Immunizations
Prevention and treatment for chronic illnesses such as asthma, diabetes and hypertension Referrals to inpatient hospital care and dozens of specialty services provided by the NYC Health and Hospitals Corporation.
Special Healthcare Programs at Segundo Ruiz Belvis
Our experienced staff has developed special programs to address the needs of our community.
Personalized OB/GYN care. We assign a specific healthcare provider to each of our obstetrics and gynecological patients. The provider may be a nurse midwife, OB/GYN nurse practitioner or a specialist physician who serves as the coordinator and primary contact person on your medical team. Services include:
Prenatal
Obstetrical
Gynecological
Colposcopy (a specialized examination of the cervix)
WIC, the federal Women, Infants and Children (WIC) food and nutrition services program. WIC protects the health of low-income women, infants and children. We often refer our WIC clients to other Belvis services, including medical services, prenatal care or pediatric services.
Partnerships with local schools. Joining forces with local schools has allowed us to introduce wellness programs to young New Yorkers and their families.
Community Health Education and Outreach program. Through this program, we circulate important health information to community-based organizations, businesses and educational institutions. We also provides in-service training to patients and staff on a variety of health issues:
Diabetes and nutrition
Smoking
Asthma
High blood pressure
Childbirth preparation
Parenting skills
Weight control
HIV/AIDS education
Learn more about your rights as a patient in any of our hospitals or health centers.
Avoid Surprises. Reduce your chances of receiving an unexpected invoice for non-emergency healthcare. Get information about how to reach our financial counselors, what health plans we participate in and the costs for many of our services.
Contact Us
Segundo Ruiz Belvis Diagnostic & Treatment Center
545 East 142nd Street
Bronx, New York 10454
(718) 579-4000
Adult Services:
Mon & Thurs: 8:30am – 8:00pm
Tues, Wed & Fri: 8:30am – 5:00pm
Pediatric Services:
Mon & Thurs: 8:30am – 8:00pm
Tues, Wed & Fri: 8:30am – 5:00pm
Sat: 8:30am – 1:00pm