Bus Priority Projects
34th Street Enhanced Bus Priority
The 34th Street Enhanced Bus Priority Corridor extends approximately two miles across Manhattan from 12th Avenue to the FDR Drive. This corridor connects to the A/C/E, 1/2/3, 6, B/D/F/V, and N/Q/R/W subway lines, multiple express buses, and the Pier 79 and East 34th Street ferry terminals. The corridor generally follows the route of the M34 bus. On an average weekday, 9,168 transit passengers ride the M34, and 8,331 people ride the M16, which also runs along 34th Street. 23 express bus routes also use 34th Street, carrying over 16,000 daily riders.
34th Street Enhanced Bus Priority Results
17% improvement in travel time
29% reduction in time spent at traffic lights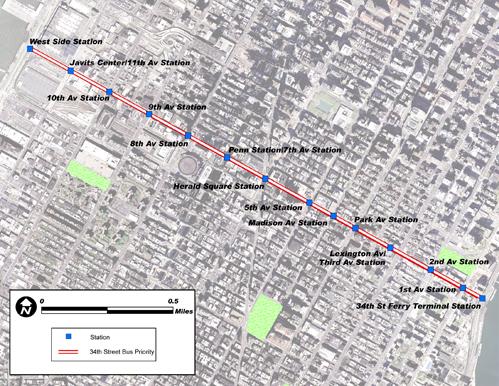 34th Street has been repaved, and striped for 5 standard-sized lanes between 3rd Avenue and 9th Avenue.
Curb lanes have been designated as bus lanes from river to river.
Bus lanes give transit priority on the corridor, and widened lanes improve roadway operations for all users.
34th Street generally has three lanes westbound and two lanes eastbound from 3rd Avenue to 9th Avenue. The street continues to have three lanes in each direction East and West of that area.
Additional improvements include left turn bus signal priority, raised pavement markers separating bus lanes, and camera enforcement of bus lane violations by taxis.
Real-time bus arrival information was installed at eight stations in the corridor in August 2009 in a pilot project. Electronic signs inform riders of the remaining minutes until the next three buses arrive.
The DOT and MTA New York City Transit and their consultants conducted an Alternatives Analysis to identify the most effective transit options to decrease travel times for transit riders, to reduce vehicular and pedestrian congestion along 34th Street, and to provide convenient connections to the major land uses and transportation facilities along the corridor. Public input was gathered on a number of different options, and a Transitway was identified as the "locally preferred alternative." Public comment was then accepted on this proposal. Following evaluation of public comments DOT and MTA have decided to adopt the Transitway option. This facility would include a physically separate right-of-way for buses on 34th Street, as well as passenger boarding islands, a prepayment fare system, and other bus operations improvements.Read more about the Transitway.