Questions
What Is A Bus Lane?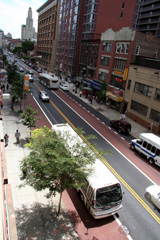 Bus lanes are travel lanes that are restricted to buses during certain hours of the day. All bus lanes have signs posted along the route with specific regulations; newer lanes may also be marked "Bus Only" or be painted red.
Emergency vehicles are the only other vehicles allowed to drive in a bus lane. All other vehicles may enter a bus lane only to make a right turn at the next corner, or to quickly drop off or pick up passengers.
There are two types of bus lanes.
A curbside bus lane is a travel lane for buses at the curb. Parking and standing at the curb are not permitted during the hours the bus lane is in effect. Most bus lanes in New York City are curbside lanes.
An offset bus lane is a travel lane for buses one lane away from the curb. This makes parking or standing at the curb still possible. Double parking, or stopping of any kind, is not permitted in an offset bus lane.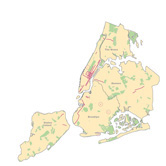 Some of the bus lanes in New York City, such as on Fordham Road in the Bronx or First and Second Avenues in Manhattan, are used by Select Bus Service (SBS) routes. SBS is the first generation of Bus Rapid Transit in New York City, and includes bus lanes and other features to improve bus service.
The information on this page has been collected in a brochure available in several languages:
Why Have Bus Lanes?
Millions of New Yorkers ride the bus every day. Bus lanes keep buses from getting stuck in traffic, making travel for bus riders fast and reliable.
How Are Bus Lanes Rules Enforced?
If you drive, park, or stand in a bus lane during hours of operation you face fines ranging from $115 to $150. The City enforces bus lanes in two ways.
Bus Lane Cameras: New York State has authorized the City of New York to place cameras along bus lanes to catch violators. Signs are posted where bus lane cameras are in use to warn drivers to keep out of bus lanes, except for allowed right turns and passenger pick ups or drop offs. If you have received a bus lane camera violation, you can view the video footage used to issue the violation. 
Police Enforcement: NYPD regularly patrols bus lanes, and issues both moving violations and parking violations to bus lane violators. New York City Transit workers also enforce bus lanes.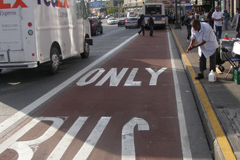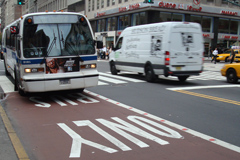 Frequently Asked Questions About Bus Lanes
What are the advantages of bus lanes?
Bus lanes enable buses to travel more quickly. Without a bus lane, buses must pull into and out of general traffic at each bus stop. This slows down both buses and other traffic. Buses also have to stop or slow down when vehicles stand and double park in bus lanes. Bus lanes help everyone move faster!
Why should buses be given priority?
A single bus can carry 60 people or more. If those passengers used cars, there would be 30 or more cars on the road, increasing traffic congestion and pollution. Giving buses priority makes them more attractive to current and new riders, easing congestion and improving the environment for all New Yorkers.
How should I make a right turn on the street with a bus lane?
Unless otherwise restricted, vehicles are permitted in the bus lane to make the next available right turn. To make a right turn from a bus lane, enter the bus lane safely toward the end of the block you are turning from. New bus lanes are being painted to make this clear and show you where it is best to enter the lane.
With an offset bus lane, there are some locations where there is a curbside right turn lane before an intersection. Drivers should merge through the bus lane and use the curbside lane to make their turn, so that they do not block the bus.
How should I pick up or drop off a passenger at the curb on the street with a bus lane?
If possible, arrange your pick up or drop off where there isn't a bus lane – across the street, or on the cross street, for example. However, you may stop in the bus lane for the time it takes for a passenger standing at the curb to enter or a passenger to exit the vehicle and get onto the sidewalk.
How should I make or receive a delivery to a business or residence on the street with a bus lane?
You cannot pick-up or deliver goods in a bus lane during the hours it is in effect. Many bus lanes have mid-day hours where parking and deliveries are permitted, and many streets with bus lanes have delivery space on an opposite curb, or on a cross street. You can use these hours and locations for deliveries, or schedule the delivery before or after the bus lanes are in effect.
Can I wait in an offset bus lane (one lane away from the curb) if I'm waiting for a parking space?
If you are actively in the process of parking, you have a good reason to be in the offset lane, but please don't block buses by waiting in the lane for someone to leave a parking space – you can get a ticket!