Patient Stories
Torture Survivor Heals After Trauma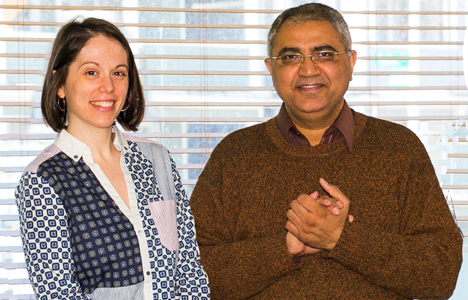 Shahid Khan's life used to be full of anxiety and nightmares. "Before I left Pakistan I spent a month and a half in the hospital being treated for wounds inflicted by the extremists," he said taking a deep breath before continuing. Wearing traditional Pakistani dress, he speaks warmly of Leah Weinzimer, the Program Director of the Libertas Center for Human Rights at Elmhurst Hospital Center, who helped him attain asylum in 2013. "Leah is the only person who knows everything that has happened to me."
After repeated threats in Pakistan, Shahid fled his country and flew to Louisiana, leaving his wife and two children behind. He had one hundred dollars in his pocket and the address of a church where he sought sanctuary. With the help of the congregation, he bought a ticket to Brooklyn's "Little Pakistan," a neighborhood with more than 40,000 Pakistanis.
Although he suffered from depression, Shahid knew he needed to apply for asylum and bring his family to safety in the United States. He was referred to Elmhurst Hospital Center where he met Leah and also worked with a multidisciplinary team of doctors designed to treat the medical and psychological impact of torture. At Elmhurst, HHC 's doctors and nurses are specially trained to discover the physical, mental and social toll that torture takes on its victims and to provide compassionate and culturally competent care to survivors and their family members.
Shahid received medical and psychological affidavits in support of his legal case and was granted political asylum. He was joined by his family a year later and is now living a fulfilling life as the director of Brooklyn Rebuild Immigrant Communities and Knowledge or BRICK, a new center aimed at promoting Pakistani literature and culture in collaboration with New York University.
If you or someone you know is a survivor of torture, HHC provides comprehensive care addressing the medical, mental health, and social service needs of torture survivors and their families at Elmhurst Hospital Center and Bellevue Hospital Center.
Need to get covered?