Lincoln Program Provides Holistic Treatment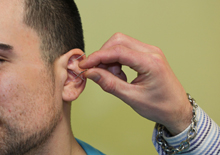 Last year Lisa, a 31-year old mother of five from the Bronx, was addicted to marijuana and in danger of losing custody of her children. Lisa voluntarily started the chemical dependency program in January 2012 at Lincoln Medical Center where the holistic treatment program features the Far East methods of acupuncture and Reiki to help ease the symptoms of drug and alcohol withdrawal. Within three weeks Lisa was clean of her marijuana addiction.
"It helped me recover," said Lisa. "I now have a positive mind for my children."
The Lincoln Recovery Center program uses auricular acupuncture on areas of the ear, and Reiki, a Japanese stress reduction and relaxation technique, to help ease the symptoms of withdrawal and bring general wellbeing to the patient. In addition to Reiki and acupuncture, program services include individual and group counseling sessions, vocational assessment and skills building, toxicology testing and a variety of educational and therapeutic services.
Acupuncture as drug and alcohol treatment was primarily developed at Lincoln Medical Center more than 40 years ago. Reiki was incorporated into the program 11 years ago.
Senior Addiction Counselor Angela Torres said when she learned Reiki in 1986; she just wanted to understand it for herself. But, she added, "I always hoped I could use it to help others." Several years later, Torres started working at the Lincoln Recovery Center, where she has been senior addiction counselor since 1997.
"Withdrawal from chemical dependency is extremely stressful, both physically and emotionally," said Torres. "Reiki is very helpful in relieving the physical symptoms, which include muscle and bone pain, headaches, vomiting and diarrhea, cravings, sleep disorders, loss of appetite and extreme moodiness. Reiki also helps to calm the body and mind."
To date, several thousand people have completed the Auricular Acupuncture treatments. Last year, the acupuncture clinic performed 1,225 individual treatments and since January 2013, the clinic has already performed nearly 500.
Lincoln's outpatient program consists of two phases. "The assessment period is an orientation, it is an engaging process," explained Torres. "For three hours a day, five days a week, patients participate in individual counseling, as well as a choice of group classes such as: relapse prevention, alcohol and drug education, stress management, Reiki, and auricular acupuncture."
Phase two is the treatment phase, where patients attend individual therapy, support groups and classes three to five times a week. Most patients stay in the program three to nine months.
Torres leads the 90-minute Reiki class. "Reiki helps the client focus, gain a sense of calmness, peace and safety," she said.
John Burgos, Jr., Licensed Classical Acupuncturist and supervisor of the program, said, "We use three to five acupuncture points to manage withdrawal symptoms, chronic pain, and other side-effects. The treatments are provided in a group setting and integrated with conventional elements of psycho-social rehabilitation."
Though she completed the program in November, Lisa says she still goes back often to visit her Lincoln Center "family" and catch up. She says Torres, Burgos, and the other practitioners helped her "figure out things in my life and work on myself."
The Lincoln Recovery Center, located at Segundo Ruiz Belvis Diagnostic & Treatment Center, 545 East 142nd Street, in the Bronx, offers services to individuals with chemical addictions. Programs are offered in both English and Spanish. For more information, call: 718- 579-4004.