News
FOR IMMEDIATE RELEASE
November 3, 2015
Ronald McDonald House® New York and HHC Kings County Hospital Announce Partnership to Build the First Ronald McDonald Family Room in Brooklyn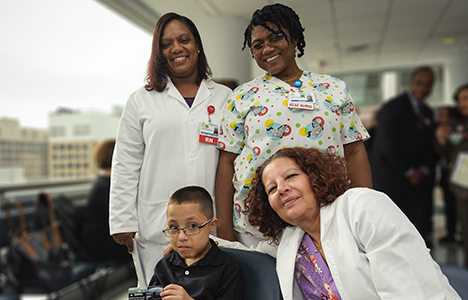 (Brooklyn, NY) - Executives from Ronald McDonald House New York (RMH-NY), NYC Health and Hospitals (HHC), and HHC Kings County Hospital Center held a ceremony yesterday to kick off the construction of a Ronald McDonald Family Room located inside the hospital. This represents the first major capital project between the organizations since the children's charity began providing programs designed to serve local families with children in the neonatal intensive care unit. HHC's philanthropic arm, The Fund for HHC, which cemented the capital expansion agreement, will be managing the creation of Family Rooms throughout the corporation. The Family Room is expected to be completed and open for use by NICU families in spring 2016.
"For more than 37 years, the Ronald McDonald House of New York City has existed to provide a temporary home for families seeking pediatric health care at local medical centers," said William T. Sullivan, president & CEO of Ronald McDonald House New York. "Our strategic planning committee recognized the need to stretch and grow beyond our traditional programs and services, and in 2012, we launched the Hospital Outreach Program. We couldn't have selected a better partner for this incredible milestone with the potential to serve more than 8,000 families per year."
"When a family is faced with the overwhelming stress of a child in the hospital, as care providers we want to do anything we can to improve their experience and bring that family comfort," said NYC Health and Hospitals President Dr. Ram Raju. "Having a Ronald McDonald House Family Room available can be an important part of the healing process and provide a positive and calming experience for patients and their families."
"We are so pleased to have developed this partnership with a patient-centered organization like RMH-NY, because it illustrates and complements our commitment to HHC's guiding principles – especially that the patient experience is paramount," said Joe Schick, executive director of The Fund for HHC.
"The Ronald McDonald House Family Room will provide families and patients in our pediatric units with another location where they can feel at home and at ease, if even for a moment, when they need it the most," said Ernest Baptiste, executive director, HHC Kings County Hospital. "Thank you to Ronald McDonald House for choosing HHC Kings County Hospital for this very special project."
Respite Care and Other Amenities for NICU Families
The Ronald McDonald Family Room at HHC Kings County Hospital will serve as a respite care facility for caregivers of patients in the NICU and will offer a kitchen, washer and dryer, bathroom, and lounge area sponsored by Macy's to provide an area of relaxation and a place to recharge for the families of children receiving inpatient care. Speakers from RMHNY and HHC Kings County Hospital included Mr. Sullivan; Harris Diamond, chairman and CEO of McCann Worldwide, vice chairman and chairman-elect of the RMH-NY board of directors, and head of the board's strategic planning committee; Dr. Ram Raju; Lee Perlman, executive vice president of administration and CFO of the GNYHA Ventures, and RMH-NY board member; Mr. Baptiste; and Brooklyn Deputy Borough President Diana Reyna.
The Strategic Planning Committee of RMH-NY launched the Hospital Outreach Initiatives in 2012, providing programming activities for inpatient families within the HHC Kings County Hospital NICU department. In April 2015, a study published in the Journal of Health Organization and Management showed a strong majority of hospital administrators in 16 countries agree that Ronald McDonald House programs play a significant and important role in family-centered care for children with serious medical needs.1 This will be the first Family Room located in Brooklyn, joining 196 Ronald McDonald Family Rooms in 23 countries and regions.
[an error occurred while processing the directive] [an error occurred while processing the directive] [an error occurred while processing the directive]
---
1
Lantz, Paula M, Nicole Rubin, and D Richard Mauery. "Hospital Leadership Perspectives on the Contributions of Ronald McDonald Houses." Journal of Health Organization and Management J of Health Org and Mgt, 2015, 381-92.