News
FOR IMMEDIATE RELEASE
October 6, 2015
Benard Dreyer, Director of Pediatrics at Bellevue Hospital Center, Elected President of the American Academy of Pediatrics
Pediatric specialist says he's working toward a world where all children and families have access to the best healthcare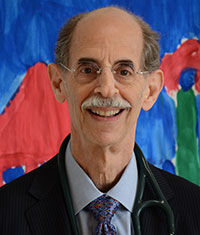 (New York, NY) - HHC Bellevue Hospital Center's Director of Pediatrics, Benard Dreyer, MD, FAAP, has been elected as the new president of the American Academy of Pediatrics (AAP), an organization of 64,000 primary care pediatricians, pediatric medical subspecialists and pediatric surgical specialists dedicated to the health, safety and well-being of infants, children, adolescents and young adults.
"Dr. Dreyer is an expert in the field of pediatrics. He is passionate about improving the lives of children and continues to make significant contributions in pediatric research, especially in the area of children living in poverty," said Steven R. Alexander, Executive Director of HHC Bellevue Hospital Center. "I am proud that Dr. Dreyer is one of our own and congratulate him on his election as President of AAP."
Dr. Dreyer's research is focused on interventions to improve outcomes among young patients, including early brain development and childhood obesity. For over 30 years, he has led a pediatric primary care program at Bellevue, including mental and oral health services for children.
Dr. Dreyer said his vision of a world where children and their families will never go hungry, lack education or have access to the best healthcare, not just those who can afford it, was his inspiration to partner with the AAP.
"There is no organization that has more national presence, staff members and resources to focus on the mission of reducing poverty and the impact destitution can have on children," he said. "AAP has adopted strategic priorities committed to the optimal physical, mental, and social health and well-being for all infants, children, adolescents, and young adults and I will work hard to strengthen partnerships and multiply the power of advocacy efforts with other individuals, organizations, alliances and coalitions."
Dr. Dreyer will begin his one-year term as AAP President on January 1, 2016. In addition to his newest role at AAP, Dr. Dreyer serves as Co-Chair of the Public Policy and Advocacy Committee of the AAP NY District II and was recently appointed to the Executive Committee of the new provisional Section on LGBT Health and Wellness. He also chairs the Academic Pediatric Association (APA) Task Force on Childhood Poverty and is a member of the American Pediatric Society, among many other roles.
"Because of his extraordinary support to New York City's neediest kids and to our Children of Bellevue programs, we recently honored Dr. Dreyer at our 19th annual Toast to the Children event," said Marc Bothwell, President of the Board of Directors of Children of Bellevue, a hospital auxiliary. "It has always been a great privilege to acknowledge and pay tribute to Dr. Dreyer's many selfless contributions and support through the years."
[an error occurred while processing the directive] [an error occurred while processing the directive]