News
FOR IMMEDIATE RELEASE
July 7, 2015
HHC Bellevue Hospital Center Named Co-Leader of New National Ebola Training and Education Center
Joins Emory University and Nebraska Medical Center to advance training of other US health care providers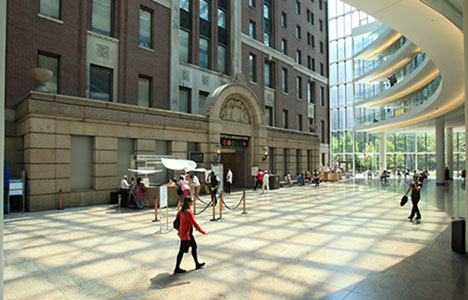 (New York City, NY) - Dr. Ram Raju, President of the New York City Health and Hospitals Corporation (HHC), announced today that HHC Bellevue Hospital Center has been named by the US Department of Health & Human Services (HHS) as one of three medical research institutions to co-lead a new National Ebola Training and Education Center.
HHC Bellevue joins Emory University in Atlanta and Nebraska Medical Center in Omaha in an effort to ensure that health care providers throughout the country are prepared to safely identify, isolate, transport and treat patients with Ebola and other potential emerging threats. The new National Ebola Training and Education Center will offer state health departments and health care facilities additional access to the clinical expertise and training capabilities offered by these institutions.
"The New York City public hospital system has proven to be at the forefront of the most advanced medical treatment, research and planning for Ebola and other infectious pathogens," said Dr. Raju. "Education is completely consistent with our mission as a public health care provider and we look forward to joining our prestigious partners in Atlanta and Omaha to advance Ebola training and preparedness nationally. This designation acknowledges the remarkable performance of HHC and Bellevue in addressing public health crises."
HHC Bellevue successfully treated New York City Ebola patient Dr. Craig Spencer during the height of last year's Ebola concerns, and has isolated and investigated more than 20 suspected cases. HHC Chief Medical Officer, Dr. Ross Wilson, notes the hospital was later named by HHS as one of 55 designated Ebola treatment centers nationally, and in June was named one of just nine national referral treatment centers for patients with Ebola or other severe, highly infectious diseases.
"The National Ebola Training and Education Center contributes to our nation's health security by developing and teaching evidence-based practices of experienced providers and health care institutions in caring for patients with Ebola and other serious infectious diseases," said Dr. Nicole Lurie, HHS Assistant Secretary for Preparedness and Response. "While this training starts with Ebola, it also will help the health care community deal with other serious infectious diseases in the future."
For more information on the National Ebola Training and Education Center see the HHS website here.
[an error occurred while processing the directive] [an error occurred while processing the directive]