News
FOR IMMEDIATE RELEASE
May 12, 2015
First Lady, HHC Bellevue Hospital Officials Announce New Mental Health Service for Children and Teens
Intensive Treatment Program with On-Site Public School Creates Alternative to Psychiatric Hospitalization for up to 550 Patients per Year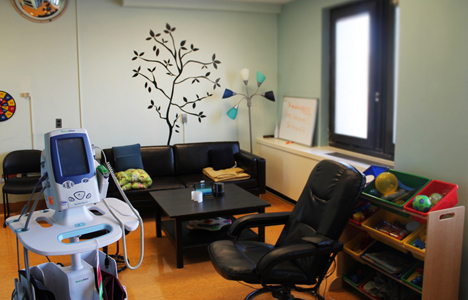 (New York - May 12, 2015) First Lady Chirlane McCray and New York City Health and Hospitals Corporation (HHC) President Dr. Ram Raju today announced a new mental health program at HHC Bellevue Hospital Center that will expand access to psychiatric treatment and support to as many as 550 children and adolescents every year.
The new Children's Partial Hospitalization Program (CPHP) at Bellevue will provide day treatment that bridges the gap between hospitalization and outpatient care for patients 6 to 17 years old and reduces the need for inpatient hospital care. The program provides intensive treatment in a medically supervised, safe and structured environment for patients who are at risk for psychiatric hospitalization, are in transition from an inpatient hospital stay to routine outpatient care, or are experiencing significant functional impairment at home, in school, or in the community. Children admitted to the program will also be able to attend full time public school co-located at Bellevue.
"The launch of Bellevue's Children's Partial Hospitalization Program brings us one step closer to the inclusive and interconnected mental health system that New York families need," said First Lady Chirlane McCray. "This program is bridging the gap for young people who have recovered enough to leave the hospital, but who need far more treatment than outpatient programs can provide. It will also provide much-needed relief to their families."
"Adolescence is a common period in life for mental illness to show its first signs. We've designed this program to reach young New Yorkers with intensive services and treatment before mental illness can become advanced and before it can derail their lives, either by damaging their personal relationships or interfering with their education," said Dr. Raju. "By placing education and treatment facilities in one location we can keep our young patients on track with their peers and on course to successful and productive lives. We're very pleased to be able to increase these services as part of our effort to expand access to care for all New Yorkers."
Partial hospitalization is an intensive, non-residential, therapeutic hospital-based program, providing a clinical diagnostic and treatment service on a level of intensity equal to an inpatient program, but on a less than 24-hour basis. Children are seen for up to eight weeks and the program can accommodate 36 children at a time. Overall, the program can currently accommodate approximately 550 children a year. Previously a less intensive day treatment program at Bellevue was able to accommodate 25 children at a time and 200 children a year.
Children in the program attend PS 35, a K-12 NYC Department of Education special education school co-located with the acute and intermediate care services at Bellevue. The children are seen daily and participate in individual and group psychotherapy; clinicians provide medication management if required; and clinicians also work closely with the families and other mental health and social service providers who are involved with each child.
The $1.4 million-a-year program has a clinical team of two psychiatrists, two nurses, two social workers, a psychologist and a nursing technician. The program is housed in a newly renovated space and was funded with a $150,000 capital grant from the New York State Office of Mental Health.
"This program provides intermediate level mental health care for children and adolescents, bridging the gap between inpatient and outpatient care. As lengths of stay for patients in the hospital decrease, access to high quality step-down care is essential to ensure that young people fully recover," said Dr. Jennifer Havens, Director of the Department of Child and Adolescent Psychiatry. "In this program, we see them daily, keep them in our school and get them better to safely go back to mainstream school settings and community care.
"We work very closely with the school staff. They're part of our team," Dr. Havens said. "We use the same behavioral management system in the school that we use in the program. And it gives us an opportunity to see how the kids are functioning educationally and socially. We also work closely with parents and guardians to ensure the youth are doing well at home."
"For more than 80 years, Bellevue Hospital Center has been a pioneer in the field of child mental health," said Steven R. Alexander, Executive Director of HHC Bellevue. "The Children's Partial Hospitalization Program is another example of Bellevue's long history of providing innovative programs to address the needs of children and adolescents with mental illness."
"I really feel like the program at Bellevue saved my children's lives," said Jacqueline Lore, whose daughter was a patient in adolescent psychiatry at Bellevue and whose son at a separate time was in the new Children's Partial Hospitalization Program.
"My daughter started suffering from anxiety, talking fast, staying up all night," said Ms. Lore. "She said she wanted to hurt herself. For about a year she was misdiagnosed. Then I brought her to Bellevue. The doctors assessed her, gave her a proper diagnosis, and reduced her medication to the appropriate levels. She was able to receive treatment and go to school here. She was a different child. She was able to focus. She learned to cope. She's graduating from high school in August. When my son got ill, I knew to take him to Bellevue. It was a long road. They still have their mood swings - they're teenagers! But they're healthy teenagers. I want to give other parents hope and let them know that there is help for their children."
HHC Bellevue Hospital Center opened the nation's first children's psychiatric inpatient service located in a general hospital in 1923, and opened the world's first adolescent inpatient unit in 1937. Bellevue's pioneering comprehensive child and adolescent program includes the following clinical services:
The only Children's Comprehensive Psychiatric Emergency Program (CPEP) in New York State, providing emergency care in a program comprised of an Evaluation Unit, a 6-bed Extended Observation Unit (EOU), an Interim Crisis Clinic, and access to Mobile Crisis services.
Inpatient care: 15-bed unit for children ages 4-11, and two 15-bed units for adolescents ages 12-18.
Outpatient care: Child and adolescent mental health clinic licensed by the New York State Office of Mental Health, and Integrated Mental Health Program in Pediatrics Ambulatory Care.
[an error occurred while processing the directive] [an error occurred while processing the directive]