News
FOR IMMEDIATE RELEASE
January 1, 2013
New Year's Baby Born at the Stroke of Midnight at Elmhurst Hospital Center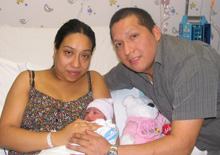 New York, NY ― As revelers ushered in the New Year in Times Square, a family welcomed a new baby girl at the stroke of midnight on January 1 at Elmhurst Hospital Center in Queens, a member of the New York City Health and Hospitals Corporation (HHC).
Weighing in at 6 lb., 11 oz., little Kaylee Sayuri Merino was born to mother Rosalba Merino and father Eutiquio Mejia at exactly 12:00:00 a.m. Mother and baby are doing well. The baby was delivered by Dr. Ashley Davis and Maria Hernandez, RN. The couple has an older child, Miguel, age 7, who was also born at Elmhurst Hospital.
"We are thrilled and excited that one of the first babies of 2013 was born at Elmhurst," said Chris Constantino, Elmhurst Hospital Center's Executive Director. "Our staff is overjoyed."