School-Based Health Centers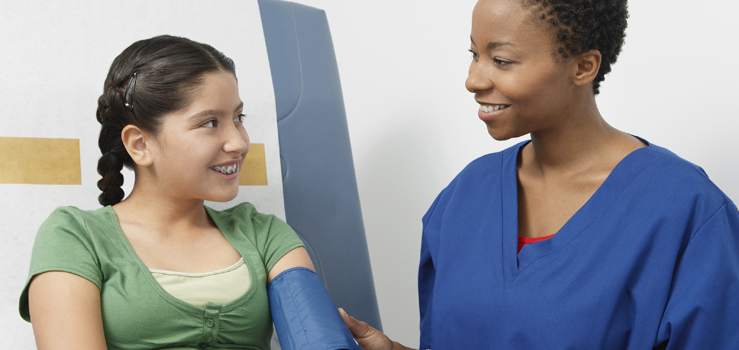 At HHC, we provide school-age children with the healthcare services they need. Thousands of children in New York City, many from low-income households, have limited access to healthcare services because their caregiver can't take them during a workday or they live in an area with limited pediatricians. New York City provides more than 120 school-based health centers (SBHCs) to school children in all five boroughs. Of these, HHC facilities bring the necessary primary and preventive care services to 21 schools in Brooklyn, Manhattan and Queens.
School-Based Health Centers in New York City
SBHCs bring healthcare services to where our children are. We understand that for many families, it may be difficult to see a doctor on a regular basis. We want to ensure that all children have access to excellent, comprehensive medical care. Primary and preventive care keeps kids healthy and in school. In addition, when children are healthy, it reduces the number of days caregivers need to take off of work to care for a sick child.
The goals of school-based health centers are to:
Increase students' access to healthcare services
Promote good physical and mental health
Improve school attendance and performance
Reduce visits to the emergency room
Prevent unnecessary hospitalizations
Lower medical expenses
School Health Services We Provide
All children in schools with a school-based health center whose parents have signed a consent form are eligible to receive services. Our health centers can serve as a student's primary care physician, or function as a supplementary service in addition to the child's regular doctor. We offer scheduled or walk-in appointments during school hours. There is also 24-hour telephone coverage for problems that may arise when the centers are closed.
Services at school-based health centers include:
Excellent medical care regardless of insurance or immigration status
Primary and preventive care including:

Physical examinations and immunizations
Working papers and sports physicals
School health services, including screenings for vision, asthma, obesity, scoliosis and tuberculosis
Treatment for chronic illnesses, including prescribing and dispensing medications

First aid care to all students
Emergency care to anyone on the school premises
Educating parents and guardians about the importance of preventive healthcare
Programs that reduce risk-taking behaviors
Referring children with special needs to the appropriate resources within the community
Some SBHCs provide:
Reproductive services (in high schools only)
Mental health care
Optometry services (eye exams)
Dental care
Contact Us
HHC has school-based health centers for students in Brooklyn, Manhattan and Queens. Look at this video to learn more about school-based health centers in New York City.
We also provide a full range of healthcare services to children and adults throughout New York City. Find an HHC hospital or health center near you.