Teddy Bear Clinic at Back to School Health Fair
Pediatrician Jason Mack led children in a Teddy Bear Clinic at the Back to School health fair at Metropolitan Hospital Center. The children, with their own little lab coats and stethoscopes. conducted a series of pretend medical exams, such as heart check-ups, body measurements and ear checks on their teddy bear patients. Dr. Mack hopes that as a result, children become familiarized with the roles of doctors and nurses so that they are more comfortable in a medical environment and less anxious should they ever need medical attention. Participants also received health screenings, school supplies, and giveaways, provided by Metropolitan, Healthfirst and X96.3.
Gun Violence as a Public Health Issue
June is Gun Violence Awareness Month. On Friday, June 27, at 12 Noon, the Houses on the Moon Theater Company will present "Gun Violence as a Public Health Issue--gUN COUNTRY," a storytelling presentation by individuals whose lives have been affected by gun violence. The program, in the 6th Floor Auditorium, includes live music. All are welcome to attend. View flyer
Affordable Care Forum
On Thursday, March 6, starting at 12 Noon, the Metropolitan Hospital Center Community Advisory Board, in partnership with Manhattan Community Board 11 and MetroPlus Health Plan, will host a community forum on affordable health care options for New Yorkers. Certified application counselors will be on site to help guide participants through the enrollment process. The forum begins at 12 Noon, in Room 1B35. View flyer
2014 Legislative Breakfast
The Metropolitan Hospital Center Community Advisory Board will host its annual legislative breakfast on Friday, March 14, from 9:30 AM to 12 Noon, in the hospital's 6th floor auditorium. This year's theme is A Better Future is a Healthier Community. All members of the hospital community are invited to attend. View Flyer
Metropolitan Hospital Center Celebrates Black History Month with Former Mayor David Dinkins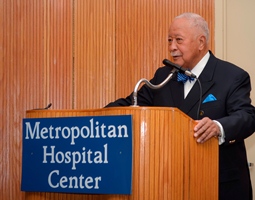 Former Mayor David N. Dinkins visited Metropolitan Hospital Center on Wednesday, February 26 as part of the hospital's celebration of Black History Month. Mr. Dinkins shared stories with a rapt standing room only audience about his family and growing up, and his journey from poor boy in Trenton to Mayor of New York City. Mayor Dinkins also signed copies of his book, A Mayor's Life: Governing New York's Gorgeous Mosaic, a revealing look at a devoted public servant and a New Yorker in love with his city. Copies of the book were on sale to benefit the Metropolitan Hospital Auxiliary, to support programs and services that lead to better care for our patients.
Learn With Us: The Silent Epidemic: Synthetic Drug Use in East Harlem
Dr. Ronnie Swift, Chief of Psychiatry at Metropolitan Hospital Center, provided an overview on "The Silent Epidemic: Synthetic Drug Use in East Harlem" to a standing room only audience on Thursday, January 30, 2014. Dr. Swift discussed the use, abuse, and harmful effect of synthetic drugs including bath salts, others known by their street names, such as K2, Spice, Molly. The presentation was part of Learn With Us, Metropolitan's monthly series on important health topics.
Metropolitan's First Baby of 2014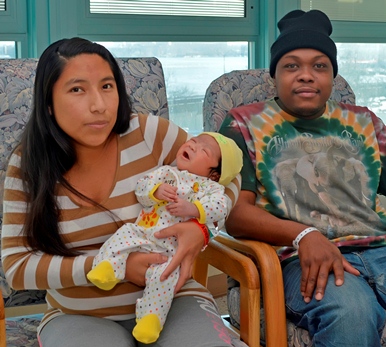 Meet Shirley Martinez Aguilar, Metropolitan Hospital Center's first baby of 2014! Weighing in at 8 pounds and 6.2 ounces, Baby Shirley arrived at 1:57 AM on January 1, 2014. Both mother and child are doing well. Shirley's mother, Remedios, is originally from Mexico, and her father, Jairo, is from Honduras. She joins them in the Bronx, with their two other daughters, ages 7 and 4. The parents expressed joy tht their baby was born on New Year's Day and were very grateful to everyone at Metropolitan for the medical care and kind attention received. As estimated 1,150 babies were delivered at Metropolitan in 2013. We wish Shirley and every baby born at Metropolitan a life of health and happiness!

---