News
FOR IMMEDIATE RELEASE
June 3, 2015
HHC Farmers Markets Help Bring Better Eating to the Manhattan
New Farmers Market Opens at HHC Gouverneur for 2015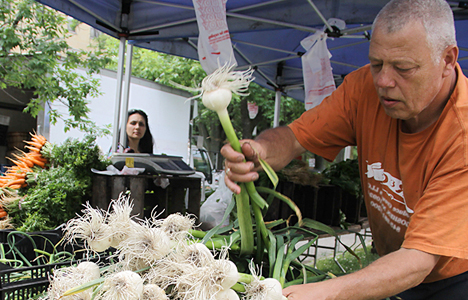 (New York, NY) Dr. Ram Raju, President of the New York City Health and Hospitals Corporation (HHC), announced today that HHC will host farmers markets at four locations in Manhattan this year, including for the first time at HHC Gouverneur Health on the Lower East Side, helping to make fresh fruits and vegetables more accessible to New Yorkers who need them for healthy diets.
Overall, HHC will host farmers markets at 11 locations throughout the City in 2015. New for 2015, the farmers market at HHC Harlem Hospital Center also has expanded its schedule to remain open all year.
HHC's farmers markets offer a variety of affordable, regionally-grown vegetables, fruits, fresh juices and flowers in communities where residents sometimes lack access to quality produce at reasonable prices. Numerous payment options are in place to help residents take advantage of farmers markets, and shoppers can take advantage of EBT/SNAP, Health Bucks, Green Checks, Senior Farmers Market Nutrition Program (FMNP) coupons and Women, Infants and Children (WIC) coupons.
"Farmers markets directly support HHC's efforts to build healthy communities and we're very happy to keep expanding the program to bring affordable food options to more and more neighborhoods," said Dr. Raju. "Along with regular checkups and exercise, a healthy diet with fruits and vegetables keeps people fit and helps to control or avoid chronic health conditions such as diabetes and hypertension."
Instead of a traditional farmers market, HHC Bellevue Hospital Center in Manhattan has partnered with GrowNYC to become part of its Fresh Food Box Program, which every week provides participants with a curated selection of six to nine types of the best seasonally available regionally-grown produce, along with recipes and instructions for proper storage.
Many HHC farmers markets also conduct regular on-site cooking and nutrition demonstrations, providing healthy recipes and eating tips, and highlighting how eating fruits and vegetables can help ward off or control the symptoms of obesity and chronic disease.
HHC is also an active participant in the Fruit & Vegetable Prescription Program, under which physicians write "prescriptions" for families to eat more fruit and vegetables. Patients then receive Health Bucks that can be used at farmers markets throughout the City. The program is active this year at HHC Bellevue, HHC Harlem and HHC Elmhurst hospitals.
HHC offers a variety of primary and preventive care services to help New Yorkers control their weight, avoid or manage chronic conditions, and learn about healthy eating and lifestyles. All services are affordable and are available to New Yorkers regardless of their immigration status. Call 311 or see HHC's website to locate the HHC facility nearest to you.
2015 HHC Manhattan Farmers Markets