SECTION TERMS
Protected streets: A street is considered to be in protected status for a period of five years from the date it was last resurfaced or reconstructed. The purpose of placing a street in protected status is to maintain the integrity of a new street surface.
SECTION FACTS
Advance notice and coordination refers to project information sharing and communication activities that occur between NYC DOT and street excavators prior to the issuance of a permit.
Street excavators include utility companies, developers, city and state agencies and other entities that are permitted to carry out excavation work in the street or hire contractors to do such work on their behalf.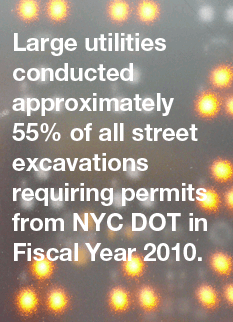 Chapter 2: Advance Notice and Coordination
Advance notice and coordination of planned street work is one of the most effective tools for reducing the number of street excavations, especially on streets that are scheduled to be resurfaced or reconstructed. Street excavators, including utility companies and developers, can access New York City Department of Transportation (NYC DOT) data and attend NYC DOT coordination meetings to facilitate effective communication regarding planned street work.
About this Chapter
Thousands of miles of utility pipes, cables and other equipment are beneath the streets of New York City. The installation and repair of this infrastructure is crucial to maintaining and strengthening the city's competitive position in the global economy. Inevitably, street excavations to install or access this infrastructure disrupt the normal activity of New York's streets, causing frustration and confusion for local residents and businesses. Street excavations also adversely affect the condition of the streets, reducing the number of years the pavement would otherwise be expected to remain in good or excellent condition following resurfacing or reconstruction, and increasing repair and life cycle costs for the city.
The goal of advance coordination is to reduce the number of excavations in New York City streets. To this end, this chapter discusses existing mechanisms that help inform utility companies and other potential street excavators of impending NYC DOT work, including how to access information on NYC DOT's planned capital projects, weekly street resurfacing schedules, "protected street"* information and other data that can help to facilitate effective communication regarding street work. It also outlines principles for coordinating with NYC DOT when proposing excavation work to help make certain that excavation on streets occurs before or in conjunction with city street work, where practicable.
The Street Synergy 2011 initiative discussed earlier in Chapter 1 formalizes information sharing between NYC DOT and utilities that do a large amount of street excavation work. Proposed project locations can be reviewed to identify project coordination opportunities. All parties will have the ability to undertake more street-related work concurrently or in a closely-scheduled sequence, rather than re-excavating and re-surfacing particular streets in an uncoordinated manner.
NYC DOT project locations, protected streets, and other maps are available online at the Department of Information Technology & Telecommunications (DoITT) NYCityMap website and the DOTMap portal. Permittees can use these maps to make informed decisions while planning new projects.
The chapter is organized by topic as follows: