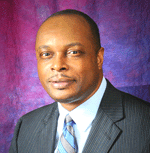 Ernest J. Baptiste
When I began my tenure as Executive Director of Kings County Hospital Center (KCHC) in August 2012, I knew that I was taking on a big challenge.  Returning to NYC Health and Hospitals Corporation (HHC) during such a crucial time in the health care environment is both daunting and exhilarating.  More than ever, we are faced with improving the quality of care for our patients, as we reduce costs and eliminate waste. It is an honor that I was provided this leadership opportunity by HHC President Alan Aviles and Senior Vice President George M. Proctor.  The level of commitment which HHC has to its mission of providing quality health care to all is unparalleled anywhere in the U.S., and I am glad to be part of this team.
With a legacy of outstanding service since 1831, Kings County Hospital Center plays a vital role as a safety net provider for the people of Brooklyn and New York City.  We have been at the forefront of many medical achievements which are often forgotten: performed the first open-heart surgery in New York State; developed the world's first hemodialysis machine; conducted the first studies of HIV infection in women; and became the first designated Level 1 Trauma Center in the U.S. As the current "guardian" of this legacy, I place great value on this history.
However, this is no time to rest on past achievements.  Almost everything that we used to know and do in healthcare is being re-vamped.  Patients are empowered to take an active role in their health care and to evaluate the type of job which we're doing.  Consumer input now has a direct impact on how hospitals are reimbursed for their services.  Providing excellent customer service, as well as excellent medical and mental health care, is now essential to good financial outcomes.
Together with KCHC leadership, staff, and the support of our Community Advisory Board, I am confident that KCHC will continue to strengthen its mission to serve all those in need.  I look forward to a rich tenure of service as Executive Director.
Sincerely,
Ernest J. Baptiste
Executive Director