Harlem Hospital Center:
The First Baby Friendly Hospital In New York City
Will I be ready when my new baby is born?  This is one of the most important questions that new mothers and fathers ask themselves.  It is a fact of life that every baby has a better chance of getting a healthy start in life when their mother receives appropriate healthcare.  At Harlem Hospital Center, our team of physicians, nurses, midwives, and support staff are well trained and have many years of experience helping families welcome their new additions.
That's why we were pleased to share the good news that Harlem Hospital Center is the first hospital in New York City to receive the coveted "Baby Friendly" certification.  The certification is granted by Baby Friendly USA, part of a global initiative sponsored by the World Health Organization and the United Nations Children Fund.
The global Baby Friendly Hospital Initiative selects hospitals and birthing centers that successfully implement the recommended 10 steps of a comprehensive breastfeeding program, which includes limits on baby formula, initiating breastfeeding in the first hour of life, keeping mothers and babies in the same room, and support groups for women who breastfeed.
Worldwide, more than 19,000 maternity facilities have received the Baby Friendly designation, while only 64 facilities have been certified in the United States.
In 2010, Harlem Hospital Center delivered well over 1,200 babies and the overwhelming majority of mothers who delivered at Harlem were breastfeeding their babies when they left the hospital.
Baby-Friendly certification requires the implementation of these ten steps to successful breastfeeding:
Have a written breastfeeding policy, and routinely communicate it to all health care staff.
Train all health care staff in skills necessary to implement the breastfeeding policy.
Inform all pregnant women of the benefits and management of breastfeeding.
Help mothers initiate breastfeeding within one hour of birth.
Show mothers how to breastfeed, and how to maintain lactation even if they are separated from their infants.
Give newborn infants no food or drink other than breast milk, unless medically indicated.
Practice rooming-in, which allows mothers and infants to remain together 24 hours a day.
Encourage breastfeeding on demand.
Give no artificial teats or pacifiers to breastfeeding infants.
Establish breastfeeding support groups and refer mothers to them on discharge from the hospital or clinic.
Breastfeeding exclusively for the first 6 months of an infant's life has many health benefits for babies and mothers, including a reduction in infectious diseases and mortality during infancy, improved bonding, and postpartum maternal weight loss. 
Breastfeeding also helps reduce the risks of common childhood infections, asthma, diabetes and other conditions that children who get mother's milk are less likely to develop.  It saves time and money for families in both baby formula and medical costs.  An estimated $2.16 billion dollars could be saved annually in the United States if women exclusive breastfeed for just 12 weeks after delivery.  Despite these benefits, relatively few women breastfeed exclusively for the recommended 6-month time period. 
Harlem Hospital Center is at the forefront of the movement to increase the numbers of mothers who breastfeed and we are pleased and proud to have earned the internationally recognized designation as a Baby Friendly Hospital.  This designation confirms our commitment to supporting a mother's decision to breastfeed and we welcome this wonderful opportunity to promote breastfeeding and ultimately help reduce the risks of common childhood infections, asthma, and diabetes.
The Baby Friendly Program supports new mothers and helps babies get a healthier start if life.  There are so many wonderful benefits to breastfeeding for babies and new mothers, and the Baby Friendly program ensures that hundreds of families understand and benefit from this important message.
For more information about the Baby Friendly Program, contact Judith Daniels, RNC, MSA at (212) 939-4093.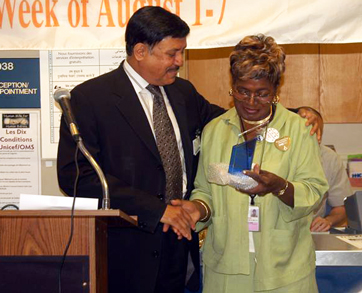 Dr. Ramanathan Raju, then Executive Vice President of Medical and Professionals Affairs, NYC Health and Hospitals Corporation presented Alison Benjamin, RN for her contributions and diligent efforts to make Harlem Hospital Center certified as Baby Friendly by the World Health Organization and the United Nations Children's Fund. -2011