HHC Launches New Book
Story Captures Commitment to Improving Quality and Safety at Hospitals and Clinics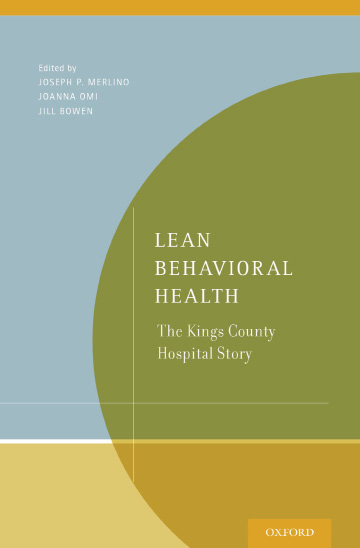 Lean Behavioral Health: The Kings County Hospital Story is the first lean book that focuses entirely on behavioral health. Using the principles of the Toyota Production System, or lean, the contributors in this groundbreaking volume share their experience in transforming a major public hospital after a tragic event. As the largest municipal hospital system in the United States, the New York City Health & Hospitals Corporation adopted lean as its system for making change at its hospitals and clinics. Kings County Hospital Center, one of the largest providers of behavioral health care in the country, continues on its transformational journey utilizing lean techniques. Kings County Hospital Center has made significant strides in improving patient care and operations, with both successes and failures along the way helping it to increase the knowledge base about how to continually improve quality and safety. Having made major changes, Kings County Hospital Center is now recognized as a center for transformation and quality receiving high marks from oversight agencies.
"When we started the Lean transformation at Kings County, there were very clear and defining challenges including a tragic death, a Department of Justice investigation and the need for improved communications between providers," said Joseph P. Merlino, M.D., MPA, chief executive for Behavioral Health Services and director of Psychiatry at Kings County Hospital Center. "By keeping patients our first priority, involving our community and continually demonstrating a strong commitment from hospital leadership, front line workers, clinicians and staff, we have built an exciting new, sustainable model of care that can serve as a powerful example for others in the healthcare industry. 
The book is edited by Dr. Merlino, Joanna Omi, chief innovation officer and senior vice president for Organizational Effectiveness at HHC, and Jill Bowen, PhD, senior associate executive director and chief of staff for Behavioral Health Services at Kings County Hospital Center. It is available to purchase at http://simpler.com/publications.html.
All proceeds of the book go to The Fund for HHC, which supports innovative, effective and compassionate programs that help HHC care for New York City.