Effective Early Intervention for Adolescents in Mental Health Crisis
Unique behavioral health programs at Kings County Hospital provide the specialized care young New Yorkers need to help achieve goals for school, careers and personal relationships before they may be derailed by long-term psychiatric complications.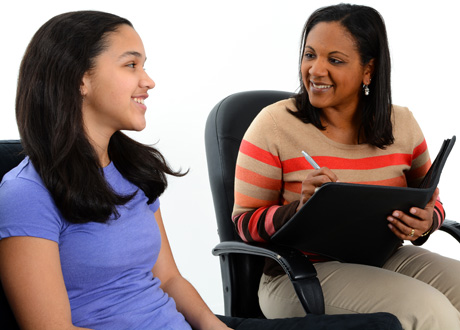 Anthony* had shown no signs of mental illness.  He was attending college at a technology institute and held a job as a sales associate for a wireless cell phone company.
 
Suddenly, he stopped talking and showering, and stopped his daily activities such as going to school and to work, according to his mother, Nancy*. 
"I noticed something was wrong when he stopped acting the way that I know him to be," she said.
The 19 year-old was showing the first symptoms of psychosis, an abnormal condition of the mind that causes an individual to stop thinking clearly, be unable to determine reality from imagination, and severely interferes with a person's capacity to meet life's everyday demands.
Psychotic symptoms can be the result of a number of serious mental illnesses, such as depression, bipolar disorder (manic-depression) and schizophrenia, and can develop with some forms of alcohol and drug abuse.
Studies have shown that schizophrenia and other disorders that can cause psychosis usually emerge in young adulthood.  And young adults who begin to experience psychosis often drop out of school, lose or quit their jobs, and sometimes irreparably damage their personal relationships.
"This can lead to a lifelong cycle of poverty and dependency, or institutionalization," said Joseph Merlino, MD, MPA, Deputy Executive Director for Behavioral Health at HHC Kings County Hospital Center, one of the largest providers of mental health services in New York City.
"It's critical that we reach young adults with age appropriate services at a time when they're suffering their first episodes of behavioral abnormalities," said Dr. Merlino.  "If we address these symptoms early when they first emerge, we can help patients like Anthony to remain on track toward a healthy and productive life."
The options for Nancy, and other New York City families who face this challenge, can be limited. In most healthcare facilities, adolescents below age 18 are typically cared for in pediatric units and patients over 18 are hospitalized in units with adults of all ages.
But the team at Kings County Hospital recognized that adolescents and young adults have special psychiatric needs that neither the standard pediatric or standard adult models of care adequately address.
In January, the hospital opened New York's first inpatient unit of its kind that is exclusively designed for treatment of patients ages 16 to 23 who have been diagnosed with early episode of psychotic illness. The hospital also recently became a site for a special state-funded outpatient pilot program called "OnTrackNY," to help patients 16 to 30 with early episode psychosis.
Both innovative programs have made Kings County Hospital a recognized leader in new models of care that aim to close the gap in specialized services for adolescents and young adults with mental health needs.
"When this all first started I had no idea what to do. I cried for weeks and would cry every day when I went to visit him," Nancy said.
Nancy now realizes the new Kings County unit was the best place for Anthony.  "Because he was around others his own age, he could relate to them and the way they were going through the same thing. And the staff there understands and really made us feel safe and at ease," Nancy added.
Both the inpatient young adult unit and the On Track treatment program encourage a patient's family to be involved in all aspects of the adolescent's progress, including the initial assessment and the establishment of short and long-term treatment goals. They also  offer support groups to help families to better understand their family member's illness and treatment plan, and to  be around other parents experiencing similar challenges. 
Patients like Anthony get special support services that address common struggles related to school, work, relationships and identity to help them reintegrate into the community.
Nancy says the early intervention and specialized support Anthony received on the early psychosis inpatient unit made a huge difference for Anthony and for the family.
"I knew he was getting better because he started talking again. He's going to therapy at the hospital, and is doing really great," she said. "He'll be going back to school in the fall."

*Name changed to protect patient privacy.