HHC Nurses Make Hospitals Senior-Friendly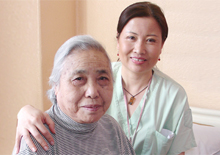 Rosemarie Lifrieri vividly remembers when her grandfather had a bad fall at age 85 and lost his independence overnight. "He got dementia and was physically incapacitated. Suddenly, I had to care for him in a very different way," she says.
That experience inspired Lifrieri, a Registered Nurse and Associate Executive Director for Geriatrics at HHC's North Bronx Network (Jacobi and NCB), to seek national certification in geriatric care. She is one of the HHC nurse leaders who helped three public hospitals achieve designation as Nurses Improving Care for Healthsystem Elders (NICHE) facilities, "senior-friendly" hospitals designed to meet the special needs of hospitalized elder adults.
With support from a grant by The Fan Fox and Leslie R Samuels Foundation, HHC partnered with the Hartford Institute for Geriatric Nursing and the New York University College of Nursing to adopt NICHE standards, which features a nationally recognized training program designed to bring the most current knowledge and skills in geriatric patient care to bedside nurses and hospital staff.
Harlem Hospital Center, North Central Bronx Hospital and Queens Hospital Center this year achieved the NICHE certification. Jacobi, Lincoln, Elmhurst and Coney Island hospitals began the required nurse leadership training this Fall.
"With the explosive growth of baby boomers that is expected to challenge the healthcare system, our work to improve geriatric nursing competence is more important than ever before," said HHC President Alan D. Aviles.
The number of people in the United States who are age 65 and older is expected to grow from 39 million in 2008 to 72 million in 2030. At HHC, patients 65 years old and older represent about 20 percent of hospital discharges and that number is expected to grow following national trends.
"By adopting age-sensitive, patient-centered best practices in elderly care we can improve the health and well-being of seniors in our hospitals, improve their patient experience, reduce their readmission rates, and improve their capacity to live independently for as long as possible," added Aviles.
As NICHE hospitals, HHC facilities are building a cadre of specially trained nursing professionals who will help guide elder care at the hospitals and also help extend their knowledge across interdisciplinary care teams. Nearly 100 HHC nurses have already completed the training and 140 others began the program this Fall to strengthen their skills and expertise and help improve the health status of New Yorkers 65 years of age and older.
According to Lauren Johnston, R.N., HHC Chief Nurse Executive and Senior Assistant Vice President of the Office of Patient Centered Care, HHC nurses are adopting best practices to address a number of serious issues facing seniors, which include:
Review of medication lists, since seniors often have medicines prescribed by multiple providers;
Making sure that seniors admitted to the hospital receive their daily medications on schedule even as they receive other tests or treatments in the hospital;
Paying special attention to nighttime lighting for patients who are ambulatory but have vision loss;
Establishing an open line of communication with family caregivers and providing them with the information and education they need to care for elderly patients at home;
Ensuring elderly patients understand and can follow instructions for care that are established in their discharge plan.
"At home, I had to remove scatter rugs, adjust lighting and learn new ways to communicate with my grandfather to make the environment geriatric friendly," said Lifrieri. "The same applies to the hospital setting."
Lifrieri is particularly supportive of all the education and training opportunities offered thanks to the NICHE program and is a strong advocate for getting more HHC nurses to the national certification program in Gerontology.
"I believe very strongly that if you are a nurse working with the elderly, you want to be an expert in your field, you want your patients to trust you, and you want to be a role model to new nurses and your colleagues," added Lifrieri.