Trauma Centers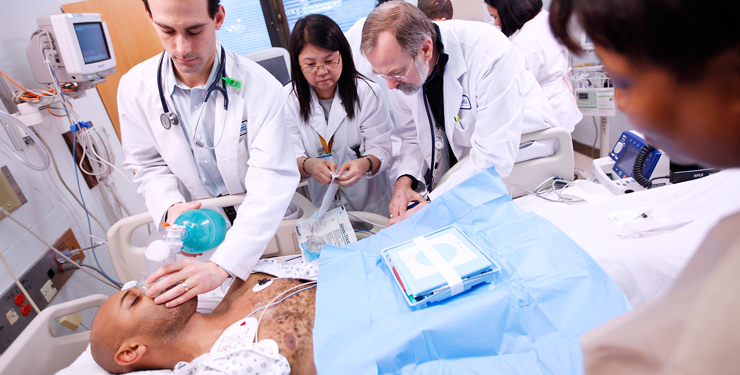 We all try to keep ourselves and our families safe and healthy. However, serious accidents do happen. When they do, you need a Trauma Center, a healthcare facility dedicated to treating emergencies. The doctors, nurses and other staff at a Trauma Center specialize in providing immediate, expert care for serious wounds and injuries. We treat all patients who come through our emergency doors, regardless of their ability to pay.
Trauma Care in New York City
A trauma is a life or limb-threatening injury or wound that needs immediate attention by a team of expert healthcare professionals.
Traumatic injuries may be caused by:
Motor vehicle crashes
Sports accidents
Falls
Assaults (such as gunshot and stab wounds)
Accidents
Traumas can happen anywhere and at any time. Many injuries can be treated at the nearest hospital's emergency room. However, life-threatening traumatic injuries need specialized care from the staff at a specialized trauma center.
HHC: Improving Outcomes of Trauma Patients
Six of our HHC hospitals are part of the NY State Health Department's Regional Trauma Quality Improvement (QI) Program. These hospitals specialize in trauma care for life-threatening emergencies. The goals of the program are to:
Provide rapid, effective care for our patients
Provide continuing medical education for our staff. This ensures that our staff stays current with the latest research and technology in emergency medicine.
Maintain a database of information collected on every trauma patient. This information helps us plan more effective treatments for patients.
HHC's Regional Trauma Centers
HHC's Trauma Centers serve the needs of a diverse population. Learn more about the language and translation services we offer at our facilities.
The following HHC facilities have regional trauma centers.
Regional Trauma Center in the Bronx
Regional Trauma Center in Brooklyn
Regional Trauma Centers in Manhattan
Regional Trauma Center in Queens