Language and Translation Services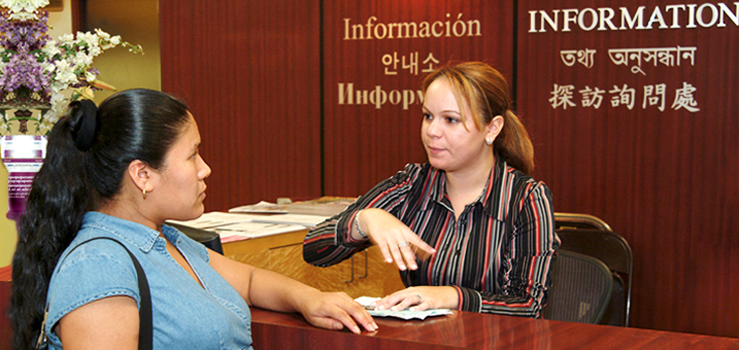 Limited English language proficiency or hearing impairment should not keep anyone from getting the healthcare services they need. At HHC, we offer free comprehensive language and translation services to ensure patients understand their medical needs and can be fully engaged in their care. When language barriers are eliminated, we increase patient safety and the healthcare provider and the patient can communicate with confidence.
Language and Translation Services for Patients in New York
New York is a city of immigrants and HHC has decades of experience in providing care to people who speak little or no English. Our 1.4 million patients speak more than 190 different languages. Our language services have become a model of compassionate, culturally responsive, patient-centered healthcare.
HHC language services include:
Telephonic services. A 24-hour, 7 day a week over-the-phone medical interpretation service. An interpreter on the phone helps communication between doctor and patient, translating and explaining complex medical information.
Healthcare interpreters.Our diverse staff represent the culturally and linguistically diverse populations of the communities we serve.  Selected HHC bilingual and multilingual staff receive specialized medical interpretation training and are uniquely qualified to help you navigate and understand HHC's healthcare services.
Translations of essential documents and patient education materials. We offer HHC consent forms, policies, health education materials and many other written communications in English and another 12 languages spoken by the majority of patients: Albanian, Arabic, Bengali, Chinese, French, Haitian Creole, Hindi, Korean, Polish, Russian, Spanish and Urdu.
Multilingual signage. HHC hospitals, primary care and specialty clinics display signage appropriate to their patient population. Our signage has won national recognition from the Society for Environmental Graphic Design.
Services for Deaf and Hearing Impaired Patients
Our deaf and hearing impaired patients have access to closed captioning TV, TTY equipment and other assistive and auxiliary devices, free of charge.
Sign language interpreters.  In-person sign language interpreters are available through the Patient Relations Department at all times. In-person sign language interpreters are available through the Patient Relations Department at all times.
Video remote interpreting.  Sign language interpreters are also available through video remote 24 hours a day, 7 days a week. You may ask for sign language interpreter at no cost to you through the Patient Relations Department.
Communication Access Real-time Translation (CART).  CART service is available for patients who have some hearing and visual impairment, upon request through the Patient Relations Department.
Contact Us
Click here for a listing by facility to better direct you to these services.. You can also request services by calling the phone number in our patient relations departments listed here.
If you are in need of language or translation services, let our staff know as soon as you enter one of our facilities. Find an HHC healthcare facility near you.