Rehab Services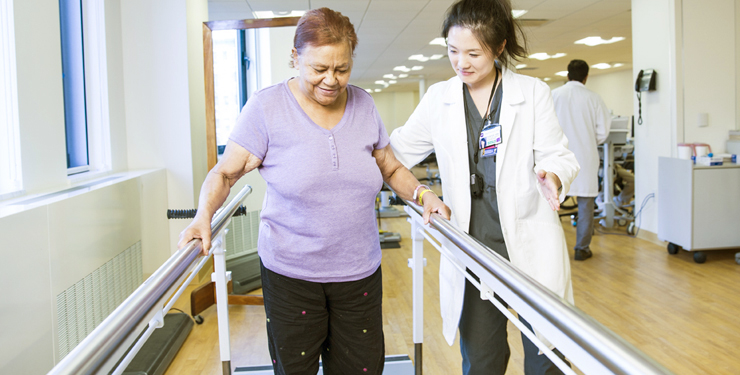 We offer many options for inpatient and outpatient physical rehabilitation, including:
Physical
Occupational
Speech
Hearing
Comprehensive Rehabilitation Services in New York City
Our patients undergo intensive rehabilitation with the goal of restoring motor function, mental functions and maximizing quality of life.
We offer the full spectrum of rehab services, including:
Assessment. We evaluate you and create a personalized rehab plan for you.
Treatment. Our expert rehab team runs your sessions, focusing on restoring your strength and function.
Discharge planning. We create a plan for your continued rehab once you leave our care.
We provide these rehab services at our four long-term nursing and rehabilitation centers as well as at many of our acute care facilities. Find an HHC nursing homes or an HHC acute care hospital near you.
Our multilingual medical staff provides treatment in comfortable, modern facilities. Learn more about our language and translation services.
Specialized Rehabilitation Facilities
Many of our facilities have additional specializations:
Sea View Hospital and Rehabilitation Center and Home is known for its long-term brain injury unit, the first in New York State. Learn more about the rehab services available at Sea View Hospital.
Coler Specialty Hospital offers inpatient rehab for patients with a wide variety of disorders, including brain/spinal cord injuries and orthopedic disorders. Learn more about the rehab services at Coler Specialty Hospital.
Henry J. Carter Specialty Hospital & Nursing Facility has a nationally-recognized pulmonary (lung) care program. The program specializes in weaning patients from the ventilator, a machine used to help them breathe. The goal is for patients to regain the ability to breathe on their own. Learn more about the specialized, acute care at Carter.
HHC Rehab Locations
We look forward to helping you get back to doing the things you love. Find an HHC location near you.