Rehabilitation Medicine Department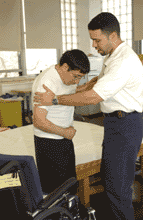 Coler

Goldwater has a comprehensive inpatient rehabilitation program fully accredited by the Commission for the Accreditation of Rehabilitation Facilities (CARF). The goal of our rehabilitation program is to assist the patient/resident in optimizing functional independence. Our full range of rehabilitative programs include:
Exercise physiology

Physical therapy

Occupational therapy

Speech therapy

Audiology

Psychology/psychiatry

Vocational counseling
The Rehabilitation Medicine Program is based on the interdisciplinary care team concept and is available to patients with a wide variety of disorders, including:
Spinal Cord Injury

Brain Injury

Neuromuscular Disorders

Orthopedic Disorders

Amputations

Cardiac Disorders

Pulmonary Disorders

Stroke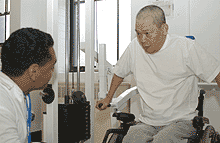 Careful, in-depth assessments of all patients assist the interdisciplinary team in designing and formulating an individualized care plan that is tailored to a patient's/resident's unique needs and abilities. Care plans document the care provided by the various disciplines and reflect the progress that each patient/resident achieves.
We also offer a comprehensive respiratory care service for our large number of ventilator-dependent patients/residents and an exercise physiology staff who enhances the delivery of cardiopulmonary rehabilitation. State-of-the art assistive communication devices are used to strengthen communication skills and unique rehabilitative programs are developed for the treatment of swallowing disorders.
Departments:
Admissions • Medical Department • Food and Nutrition
Rehabilitation Medicine • Pathology/Clinical Laboratory • Pharmacy
Psychiatric • Speech Pathology and Audiology