Geriatric Services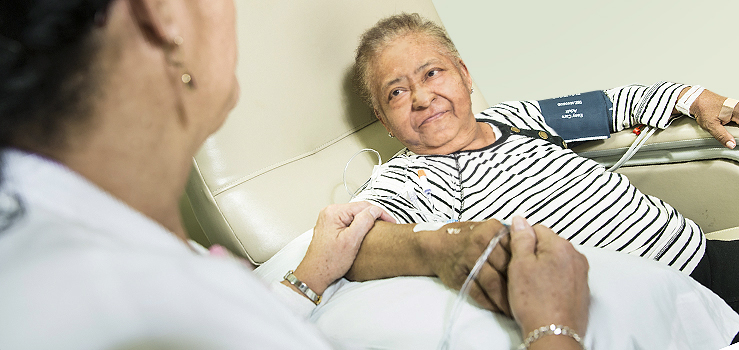 New Yorkers are living longer. And with longevity comes certain health challenges. HHC has designed its hospitals, primary and preventive care services to provide specialized care for the unique needs of older adults. Our geriatric specialists and other healthcare teams are committed to practicing age-sensitive, patient-centered best practices in elderly care not just to help patients live longer but also to improve their quality of life.
Senior–Friendly Hospitals
A hospitalization can be a defining event in a senior's life. It can either improve quality of life or can result in irreversible complications.   HHC has senior-friendly hospitals and expert staff who know how to address common and serious issues among hospitalized older adults -- medication use, community care options, dementia, falls and vision loss, self-care for family caregivers, discharge planning, and much more.
Our goal is to deliver optimal care to improve the health, well-being and care experience of seniors in our hospitals, reduce their readmission rates, and improve their capacity to live independently.
Some of those best practices adopted by HHC senior-friendly hospitals address common issues among the elderly, including:
Reviewing medication lists as many seniors take medicines prescribed by multiple healthcare providers
Ensuring that seniors admitted to the hospital receive their daily medications on schedule even as they receive other tests or treatments while in the hospital
Paying special attention to nighttime lighting for patients who are ambulatory but have vision loss
Establishing an open line of communication with family caregivers and providing them with the information and education they need to care for elderly patients at home
Ensuring elderly patients understand and can follow instructions for care that are established in their discharge plan.
Primary and Preventive Care for Older Adults
HHC has an extensive network of hospital-based and community-based primary care centers across the city with teams of specialized Geriatric Care staff who work with elderly patients and their families keep patients healthy and prevent hospitalizations. 
Our health centers treat and manage many of the common conditions that affect the elderly, including:
Our outpatient care services for seniors are designed to make getting all the healthcare elderly patients need under one roof, with special attention to safety. Features include:
Wheelchair accessible exam rooms
Onsite pharmacy and transportation services
Exam rooms designed with extra space to accommodate caregivers who may accompany the patient
Contact Us
Geriatric services are available at all of our HHC facilities. Find an HHC Hospital or health center near you.