7th Annual Event for Emergency Medical Services for Children's Day
(New York, NY) - Children of Bellevue, Inc., an auxiliary of Bellevue Hospital Center, distributed 65 bike helmets to children ages five and up in the pediatric clinic, in honor of Emergency Medical Services for Children's Day.
"More children are cycling and using scooters today. Wearing a helmet is a critical part of injury prevention and results in fewer injuries in our emergency rooms," said Dr. Deborah A. Levine, an Attending Physician in the Pediatric Emergency Department. "Moreover, all kids under age 14 are required to wear a helmet under NY law although many don't have the means to acquire one. This is the 7th year in a row that Bellevue Hospital has commemorated Emergency Medical Services for Children's Day by giving children helmets and, therefore, keeping them safer."
"All of the work that Children of Bellevue does for our patients is made possible through the generous monetary gifts of our donors," said Jean Folsom, Director of Development. "We believe children need more than medicine to thrive and so are pleased to provide helmets to the young riders of New York City."
According to the Center for Disease Control and Prevention (CDC):
33 million children in the United States ride bicycles.
450,000 are treated in ER's for bicycle-related injuries.
About 384 children die from bicycle accidents each year.
One-third of injuries involve the head and the majority of deaths are due to head injuries.
Bicycle helmets reduce the risk of bicycle-related head injury by 80 percent but only approximately 15-20 percent of children actually wear helmets.
The Pediatric Outpatient Clinic at Bellevue Hospital Center sees about 65,000 visits each year, with children receiving healthcare in both primary care and specialty clinics.
---
Top Photo: Bellevue Hospital Dr. Deborah A. Levine adjusts the helmet for Dwayne Sanders for a good fit.

---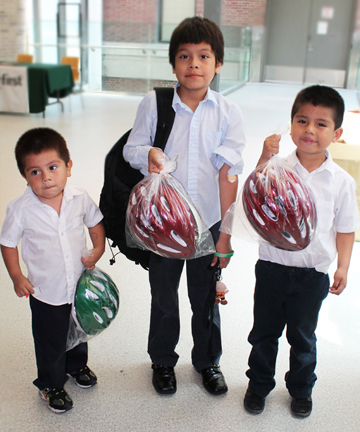 Brothers Jesus, Carlos and Cesar Rendon picked up brand new bicycle helmets in Bellevue Hospital's Pediatric Clinic as part of Children of Bellevue's 7th annual event promoting bicycle safety for children.
---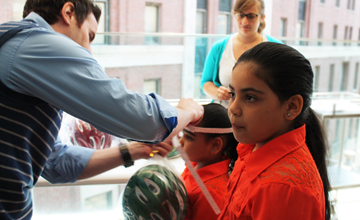 Sisters Ashley and Lesley Gonzalez receiving their bike safety helmets at Bellevue Hospital Center.

---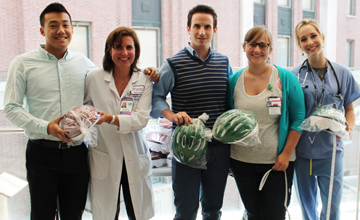 Sammy Wu (SUNY Binghamton student volunteering), Deborah Levine, MD, Josh Beiner MD (Pediatric emergency medicine fellow NYU/BHC), Alexis Pankow, MD (Pediatric emergency medicine fellow NYU/BHC), Erin Muckey, Columbia University medical student on visiting rotation.

---
About Bellevue
Bellevue is a member of the New York City Health and Hospitals Corporation (HHC) and is America's oldest hospital, established in 1736. Affiliated with the NYU School of Medicine, Bellevue is a major referral center for highly complex cases. The 828-bed hospital has more than 4,000 employees and works closely with interdisciplinary staff throughout the hospital. Its emergency room sees more than 125,000 visits every year. Clinical centers of excellence include: Emergency Medicine and Trauma Care; Cardiovascular Services; Designated Regional Perinatal Center and Neonatal Intensive Care Unit (ICU); Comprehensive Children's Psychiatric Emergency Program; and Cancer Services.
About HHC
The New York City Health and Hospitals Corporation (HHC) is a $6.7 billion integrated healthcare delivery system, the largest municipal healthcare organization in the country, and one of the New York area's largest providers of government-sponsored health insurance, MetroPlus Health Plan, the plan of choice for nearly half a million New Yorkers. HHC serves 1.4 million New Yorkers every year and more than 475,000 are uninsured. HHC provides medical, mental health and substance abuse services through its 11 acute care hospitals, five skilled nursing facilities, six large diagnostic and treatment centers and more than 70 community based clinics. HHC Health and Home Care also provides in-home services for New Yorkers. HHC was the 2008 recipient of the National Quality Forum and The Joint Commission's John M. Eisenberg Award for Innovation in Patient Safety and Quality. For more information, visit www.nyc.gov/hhc or find us on facebook.com/nycHHC or twitter.com/HHCnyc.
---
Contact:
- Evelyn Hernandez, Bellevue Public Affairs, 212-562-4516 - evelyn.hernandez@nychhc.org
- Jean Folsom, Children of Bellevue, 212-562-4130 - jfolsom@childrenofbellevue.org