New Team Dedicated to Hudson Yards Area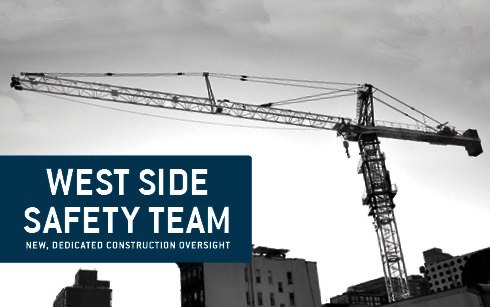 The newly created West Side Safety Team will coordinate oversight of cranes and derricks, excavation, scaffold and construction hoist work! New Building, major alterations and demolition projects in the Hudson Yards area may opt in to participate.
Learn More + Opt into the Program
---
Online Inspection Scheduling Coming Soon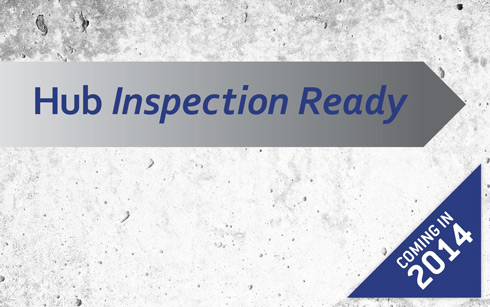 Soon, you'll be able to schedule virtually all inspections online through our latest NYC Development Hub expansion: Hub Inspection Ready. We're launching this new system in 2014.
Inspection Ready will make it easier to schedule inspection appointments. Plus, this innovation will offer more precise scheduling and improve inspection tracking and notifications.
Learn More About Hub Inspection Ready
Read About All Electronic Filing Through the Hub
---
Virtual Plan Reviews for Minor Construction
We've expanded the NYC Development Hub to provide virtual plan reviews for minor construction projects submitted through Hub Full-Service. Plans can be reviewed remotely and permits issued with the click of a button.
Read the Full-Service Filing Guide
---
Filing Representative + Code and Zoning Representative Training
The Department is now offering free training courses to assist Class 1 Filing Representatives and Class 2 Code and Zoning Representatives in meeting the new registration requirements under 1 RCNY 104-24.
All Class 1 and Class 2 representatives must complete these training requirements before renewing registration in 2014. Class 1 applicants must complete a 16-hour training; Class 2 applicants must complete a 36-hour training.
Service Updates
Thanksgiving Day Parade Route
Construction Fence + Shed Signage
How to Comply
General Overview
Requirement Summary
Local Law 47 of 2013
Panel Template (PDF)
Category 1 Elevator Inspections
December 31 Filing Deadline
---
Recent Bulletins
2013-014 submitting and permitting projects that require Structural Peer Review (NYC Building Code §1627)
2013-013 Special Inspection requirements for raising, lifting, elevating or moving buildings
2013-012 2008 and 1968 Code requirements regarding fire-alarm equipment and panels, data-gathering panels, terminal transmission boxes and all associated wiring in stair enclosures
2013-011 pre-storm planning for construction sites
2013-010 zoning requirements for yoga studios
2013-009 acceptance criteria for attendant-operated automobile parking lifts
---
Codes Updates
New 2008 Construction Codes Update Pages Now Online
#74 ― LL 29/13: raising and moving a building (Administrative Code Chapter 1; Building Code Chapter 17)
#75 ― LL 47/13: construction fences and sidewalk sheds (Administrative Code Chapter 1; Building Code Chapter 33)
#76 ― LL 51/13: permit and inspection fee waivers for Hurricane Sandy-related electrical and plumbing work (Administrative Code Chapter 1)
---
New Rules
Energy Auditor Registration Fees Effective 10.19.13
Construction Trades Course Requirements
Effective 09.15.13
Effective 07.24.13
Effective 07.24.13
---
Did You Know...?
We have developed two new tools to help you navigate the Construction Codes!
Visit our site to use the 2008 Construction Codes Amendment Index and the Integrated 2008 Construction Codes Administrative Provisions.