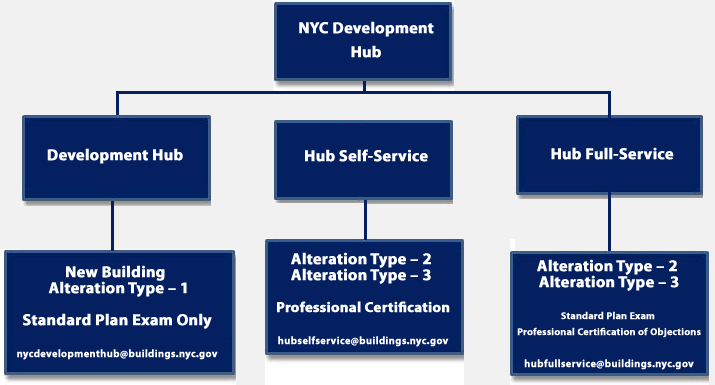 The Hub, a state-of-the-art review center equipped with large television screens, smart boards, and webcams, opened in Lower Manhattan to accelerate the approval process for construction projects throughout the City. Design professionals electronically submit applications and construction plans to the Department. Plan examiners and applicants review plans virtually using online meeting software.
New York City is among the first cities in the country to receive and review digital plans for proposed construction projects. The NYC Development Hub launched in 2011 to integrate the success of the Get It Done. Together. pilot into the daily operations of the Department.
Development Hub
Presently, the Development Hub handles major construction projects requesting Standard Plan Examination. Permits are issued at the borough office where the project is located.
Hub Self-Service
The Hub Self-Service allows licensed design professionals the opportunity to professionally certify small construction projects electronically. Professionals pay the necessary fees and obtain permits online for their professionally certified jobs. Such projects include home renovations, office improvements, and façade repairs. The Hub Self-Service was launched in 2012 following the success of the Development Hub.
Hub Full-Service
The Hub Full-Service electronically processes minor construction projects requesting Standard Plan Examination or Professional Certification of Objections. Design professionals or Filing representatives can meet with Department experts to review small Alteration 2 or 3 construction projects from the comfort of their office. The Hub Full-Service was the last Hub to join the NYC Development Hub family in 2013.

Learn about Development Hub


Learn about Hub Self-Service


Learn about Hub Full-Service


Learn about Inspection Ready


Learn more about eFiling


Request a Consultation
Helpful Links:

How to File & Get a Permit


Learn about the Professional Certification Program


Find a Form


Find Licensing Information


Learn More about the NYC Construction Codes


Use the 2008 Construction Codes Amendment Index & Integrated Administrative Provisions


Learn More about the Zoning Resolution