New Construction Fence + Shed Signs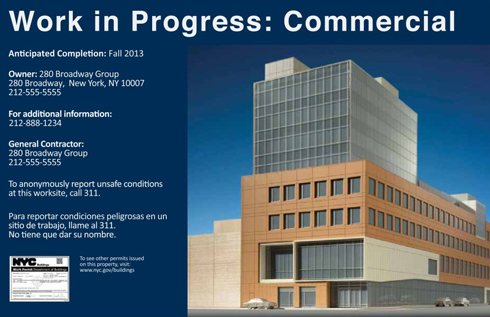 New signage, color and viewing panel requirements are now in effect for construction fences and sidewalk sheds. The new standards apply to fences and sheds with permits issued on or after July 1, 2013. The new signs improve construction site safety by providing easy access to contractor and project information ― and these new requirements improve the overall appearance of job sites for communities.
For details on compliance requirements for construction fences and sheds permitted before July 1, exemptions for one-, two- and three-family projects, and design requirements for demolition projects and smaller lots, see Local Law 47 of 2013.
Read More
General Overview
Design Templates
---
3D Site Safety Plans: New Guidelines + Revit Objects
To assist design professionals who are submitting 3D site safety plans, the Building Information Modeling Site Safety Submission Guidelines ― the BIM Manual ― is now available online, along with Revit 3D objects, Revit templates and required parameter files to use when creating BIM files.
Read More
NYC Buildings Revit Content (ZIP)
NYC Buildings AutoCAD Content (ZIP)
---
Hearings, New Rules + Effective Dates
Energy Auditor Registration Fees Hearing 08.14.13, 10am @ 280 Broadway
Retaining Wall Inspections, Penalties + Waivers Effective 07.24.13
Potentially Structurally Compromised Buildings Effective 07.24.13
Service Updates
Licensing
Online Renewal Payments for Stationary Engineers + General Contractors
Category 1 Elevator Inspections
Filing Deadline Extended
Hub Self-Service: AHVs
Read More
AHV Overview
Enroll
Learn How
Benchmarking
Updated Information
Payment Refunds
Submitting Requests
Electrical Advisory Board
New Location + Submission Process
Scaffold Safety Team
Corner Scaffold Pre-inspections + Third Person on Scaffold Letters
Filing Representatives
Becoming Class 1 or 2
Renewing Registration
1 RCNY 104-24
AHV Renewals
PW1 BIS Search
Place of Assembly COs
Recent Changes
---
Bulletins
2013-009 establishes acceptance criteria for attendant-operated automobile parking lifts.
2013-008 supersedes 2012-010 to establish acceptance criteria for flexible fuel-oil piping systems.
2013-007 clarifies the term "approved" as it pertains to materials.
---
Did You Know...?
The Department is seeking talented inspectors, architects, engineers, IT professionals and sustainability experts to join our team!