Construction Safety Week 2013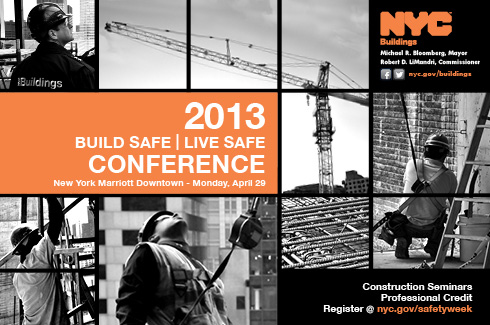 Construction Safety Week begins Monday, April 29 with the 2013 Build Safe | Live Safe Conference at the New York Marriott Downtown in Lower Manhattan.
Department of Buildings' engineers, architects and construction experts will outline recent industry trends, discuss the future of construction operations in the City and lead construction safety courses for professional credit.
Last year's conference sold out ― so secure your seat now!
---
New, Free Mobile App Now Available!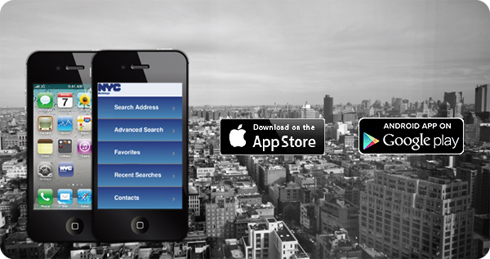 We've launched a new smartphone app that gives New Yorkers easy access to information about nearly 1 million properties throughout the City. Plus, users can receive alerts about our new services and warnings about inclement weather. The app is available for iPhone and Android phones ― and more than 5,300 people have downloaded it so far!
---
Manhattan Plan Exam Renovation
Renovations are underway at the Manhattan Borough Office's Plan Examination area! The upgrades will create more space for appointments with design professionals and filing representatives ― and will better foster collaboration. This modernization will also integrate new technology into the review process, allowing the Department and industry to work together on paper and electronic construction plans.
Temporary Service Locations:
Plan Examination: Floor 6
Fast Track Applications: Floor 3, Window 27
Fee Estimation, Civil Penalties, Manual Filing: Floor 3, Window 29
Plan Exam Appointment Rescheduling: Floor 3
Professional List: Floor 6, Receptionist Area
Extended Plan Exam Hours: Floor 3, Tuesdays 4pm–6pm
---
New Classes of Filing Representatives
Beginning July 1, 2013, there will be two classes of filing representatives: Class 1 Filing Representatives and Class 2 Code and Zoning Representatives. Applicants will be required to complete Department-approved training, which the Department will provide at no cost over the next year. Follow Buildings News for updated information.
1 RCNY 104-24
Becoming a Class 1 or 2 Filing Representative
Renewing Registration
Service Updates
Filing Representatives
AHV Renewals
New PW1 BIS Search
Benchmarking Reports
Deadline Approaching
New Payment Methods
NYC Development Hub
Electrical Firms
Monopoles
Installation + Maintenance
Post-Hurricane Repairs
Boilers
Amusement Rides
Complete Drawings Pilot
Expanded to Manhattan
Licensing Fees
Exams + Background Checks
---
Hearings + New Rules
§104-06 Construction Trades Continuing Ed
04.26.13 @10am 22 Reade Street
§105-03 Department-Approved Courses
04.26.13 @10am 22 Reade Street
§3314-01 Mast-climbing Work Platforms
04.26.13 @10am 22 Reade Street
§3606-04 Freeboard Amendment
05.09.13 @10am 125 Worth Street
License Exam Fees
1 RCNY §101-03 ― Effective 12.16.12
Energy Audits + Retrocommissioning
1 RCNY §103-07 ― Effective 10.13.12
---
Bulletins
2013-004 establishes acceptance criteria for gas-fired, direct-vent, space-heating appliances used to heat rooms for sleeping (superseding Bulletin 2012-005).
2013-003 establishes acceptance criteria for polypropylene (PP) piping systems in hydronic piping, irrigation systems and water recycling distribution piping systems (superseding Bulletins 2011-005 and 2011-20).
2013-002 establishes design and acceptance criteria for externally bonded, fiber-reinforced polymer (FRP) systems for structural repair and upgrade of concrete and masonry elements.
2013-001 clarifies enclosure requirements for kitchenettes and minimum dimensions for living rooms and habitable space in a multiple dwelling.
---
Did You Know...?
We have a new podcast series on our website! In State of Construction, Commissioner Robert LiMandri offers the latest in New York City development every month.
Thanks for listening!