Routes
The Bronx-Flushing-Jamaica Select Bus Service
Q44 Select Bus Service began on November 29, 2015
Overview
|
Updates
|
Community Outreach and Reports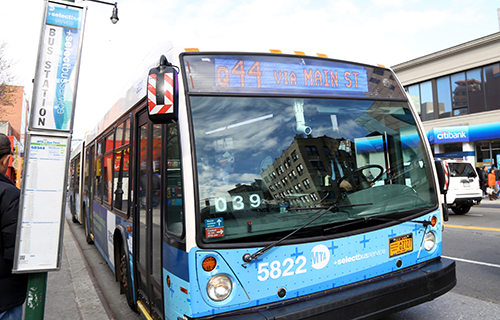 Overview
The Q44 Select Bus Service runs from the Bronx Zoo, over the White Stone Bridge to Flushing, Queens and to Downtown Jamaica via Main St. This route provides a vital link between the Bronx and growing jobs centers in Queens, carrying over 27,000 passengers per day, and connecting the 2, 5,6,7,E, F, J, and Z subway lines, dozens of other bus routes, as well as two Long Island Railroad Stations and the AirTrain to JFK Airport.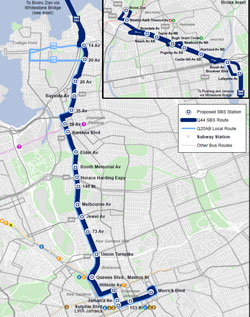 Updates
The Q44-Limited became Select Bus Service (SBS) on Sunday, November 29, 2015.
In May and June 2015, DOT and the MTA held three public open houses in Flushing, Jamaica and Parkchester. Project updates, including bus lane locations and SBS stop locations were presented and discussed.
Download the presentation materials (pdf)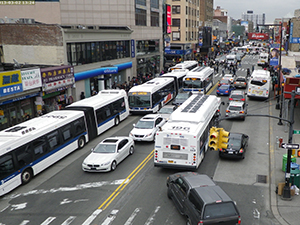 Community Outreach and Reports
Community involvement is a central part of the planning for this project. DOT and MTA will regularly consult the Community Advisory Committee, hold public forums, and directly reach out to neighborhood and key stakeholders along the corridor.
Community Advisory Committee
DOT and MTA have convened a Community Advisory Committee to provide guidance for the Flushing-Jamaica Select Bus Service project. The committee will meet throughout the project's planning phase and is comprised of a broad range of stakeholders, including elected officials, Community Boards, community groups, and major area institutions.
June 11, 2014: Community Advisory Committee Kickoff Meeting
Download the presentation (pdf)
Community Board Meetings
Community boards are local representative bodies. There are 59 boards across the City. DOT and MTA make presentations to all of the Community Boards located along proposed Select Bus Service routes.
Community Board 7 (Queens)
September 21, 2015: Design Update Download the presentation (pdf)
July 7, 2015: (Transportation Committee) Design Update Download the presentation (pdf)
Community Board 12 (Queens)
June 15, 2015: (Transportation Committee) Design update Download the presentation (pdf)
June 9, 2015: (Transportation Committee) Design update Download the presentation (pdf)
Community Board 9 (The Bronx)
April 2, 2015: Design update Download the presentation (pdf)
Public Workshops and Open Houses
Public workshops provide an opportunity for neighborhood stakeholders, residents, and bus riders to engage with one another and the project staff to develop plans for the corridor that best suit the needs of the community. DOT and MTA will host public workshops and work with the community to develop plans for bus stop locations, SBS features, and design of the corridor.

January 22, 2015: Public Open House Download the open house materials (pdf)

September 30, 2014 (Downtown Jamaica) and October 7, 2014 (Downtown Flushing): Community Workshop Download the presentation (pdf) Download the workshop summary (pdf)