Take Care New York & Commit to be Fit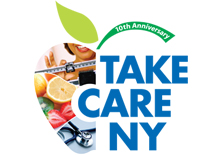 It's time again for members of the New York City Health and Hospitals Corporation community to take charge of their own health and "Commit to be Fit."
The 10th annual "Take Care New York" (TCNY) health campaign kicks off October 1st with events in all five boroughs, featuring screening tests for asthma, diabetes, depression, blood pressure, cholesterol, HIV and more. Flu shots and other immunizations are available to staff members as well as the public at 60 health fairs at HHC's 11 hospitals and primary care centers.
Access the full list of TCNY activities at www.nyc.gov/hhc and spread the news to patients and colleagues.
This year's campaign again will have an anti-obesity focus. More than 50 percent of New York City adults and 40 percent of children are overweight or obese.
"Adults and children who are overweight are at increased risk for diabetes, heart disease, stroke, high blood pressure, arthritis and cancer," said Dr. David Stevens, Senior Director of HHC's Office of Healthcare Improvement. "Eating right, exercising and losing weight can improve your health and decrease the risk of chronic disease."
Along with all New Yorkers, HHC patients and staff are invited to complete a fitness test measuring body mass index, cardiovascular fitness and blood pressure at the TCNY events. Participants will receive a free pedometer and customized recommendations for diet and exercise. Free exercise classes for Zumba, yoga and more by Shape Up NY also will be featured.
This year, HHC will track the fitness progress of ten staff members by providing photos and updates on HHC's Facebook and Twitter pages.