News
FOR IMMEDIATE RELEASE
July 15, 2015
HHC Coney Island Hospital Re-Dedicates New Ida G. Israel Community Health Center
Restoration of Full Health Services in the West End of Coney Island Coming in August Following Superstorm Sandy
New Center Near MCU Park Retains Name in Honor of the Late Community Leader Ida G. Israel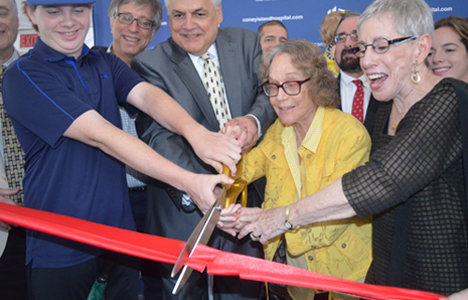 (Brooklyn, NY) - HHC Coney Island Hospital today re-dedicated its new community health center in Coney Island for Ida G. Israel, the late community leader and long-time neighborhood resident. The new Ida G. Israel Community Health Center is scheduled to open in late-August at 2925 West 19th Street, between Surf and Mermaid Avenues and across the street from MCU Park. It replaces the former Center that was destroyed by Superstorm Sandy, and will restore healthcare services in the west end of Coney Island at a location less than half a mile away from the original.
Close to 30 members of Ida Israel's extended family attended a ribbon-cutting ceremony today at the new location. They were joined by numerous elected officials and dignitaries, including Councilmembers Corey Johnson, Mark Treyger and Chaim Deutsch; Deputy Brooklyn Borough President Diana Reyna; Ms. Josephine Bolus and Ms. Emily A Youssouf of the HHC Board of Directors; and HHC Executive Vice President Antonio Martin.
Built with $7.5 million in resiliency funds from the Federal Emergency Management Agency (FEMA), the 13,000-square-foot facility is a new one-story building elevated to meet FEMA requirements for protection against a future storm surge. The new Center will provide the same services in adult primary care, pediatrics, dentistry, social services, family planning, behavioral health, chemical dependency and rehabilitation and Women, Infant and Child (WIC).
"Our goal since Sandy has always been to fully rebuild the Ida G. Israel Community Health Center so it can provide the important healthcare services that improve the overall health of our community," said Arthur Wagner, Executive Director of HHC Coney Island Hospital. "The new Center is located very near the former one so patients can reach it easily, and it restores services in an updated and modernized setting. We appreciate the support from our partners in labor, our community advisory board and auxiliary during the rebuilding of Ida G. Israel Community Health Center."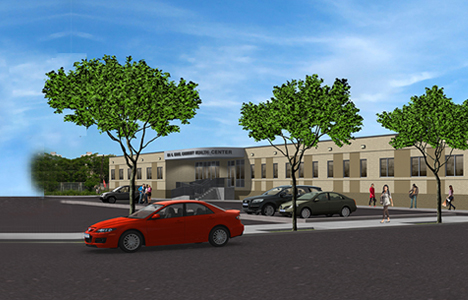 Prior to Superstorm Sandy, the Ida G. Israel Center provided more than 40,000 medical, dental and mental health visits each year, many for Medicaid or uninsured patients. After the storm, interim services were temporarily provided at HHC Coney Island Hospital and through a mobile medical van located at West 30th Street and Mermaid Avenue.
At its new location the Center will have improved access to the F, N, Q and D subway lines and the B36 and B74 bus lines. Starting the end of August patients will be able to schedule appointments at 718-616-3880. The Ida G. Israel Community Health Center will operate Monday through Friday with extended hours for Behavioral Health Services on Saturdays.
"After Superstorm Sandy destroyed the Ida G. Israel Community Health Center, residents across Coney Island were left wondering if it would ever be back," said U.S. Senator Charles Schumer. "Well, today, the answer is clear. The new Ida G. Israel Community Health Center is not only back, but it is stronger and better than before. Thanks to the work of so many, including FEMA, this center will continue to provide essential health care services for countless residents – in the inspiring spirit of Ida Israel – each and every day."
"Hurricane Sandy demonstrated the vulnerabilities in the city's healthcare system to coastal storms and extreme weather. That's why we are investing heavily to improve and protect healthcare access for New Yorkers," said Daniel Zarrilli, Director of the NYC Mayor's Office of Recovery and Resiliency. "The reopening of Ida G. Israel is a major step toward improving healthcare access in Coney Island and its surrounding neighborhoods – part of the OneNYC resiliency program to prepare the city's infrastructure to withstand and emerge stronger from the impacts of climate change and other 21st century threats."
"The reopening of this vital clinic in the West End of Coney Island is a tremendous relief for the thousands of local residents who relied on it for a wide range of medical services before it was destroyed by Hurricane Sandy," said Councilmember Mark Treyger, Chair of the Council's Committee on Recovery & Resiliency. "When I ran for office two years ago, the loss of this Center was one of the biggest issues I heard from the community, so I am pleased that we were able to deliver on our promise to restore these services right here in the heart of Coney Island's residential area. My thanks to Queenie Huling and Coney Island Hospital for recognizing the importance of this center to our community and for making it a priority as we continue the long recovery from Sandy."
"I am pleased to be a part of the dedication of the Ida G. Israel Community Health Center, which will restore vital services to Coney Island that have been lacking since Sandy," said Councilmember Chaim Deutsch. "Prior to Sandy, the Health Center served more than 40,000 patients every year, filling a crucial need that is vital to the health and wellbeing of its patients. Made possible by funding from FEMA, this new center will honor the legacy of Ida G. Israel, who was a strong community activist and influential in bringing health care into our neighborhood."
Ida G. Israel was a community leader, activist and long-time resident of Coney Island who was also instrumental in bringing about the creation of a health center for the neighborhood. Among her numerous activities, she was Chair of School Board 21, a member of Community Board 13, President of the Jewish Community Council of Greater Coney Island and Brighton Beach, Vice President of Community Action for Legal Services of New York State, Vice Chair of the Coney Island Hospital Community Advisory Board and Chair of the Hospital Community Medical Health Center Advisory Board.
"Our mother – Ida Israel – was indefatigable in her determination to ensure that the people of her beloved Coney Island have access to high quality health care regardless of their ability to pay," said her children George Israel and Carol Kuller. "She passionately envisioned and advocated for the creation of this very clinic that bears her name, and like so many determined New Yorkers, she would undoubtedly have been the first to line up today to help build an even better clinic. We are so grateful to see her vision once again come to fruition."
MetroPlus, HHC's health insurance plan, was also at the event to advise New Yorkers on health insurance options. Nearly half a million New Yorkers are signed up for MetroPlus, which over the last ten years has consistently been one of the top-ranked health plans in New York City for customer satisfaction.