Bariatric Program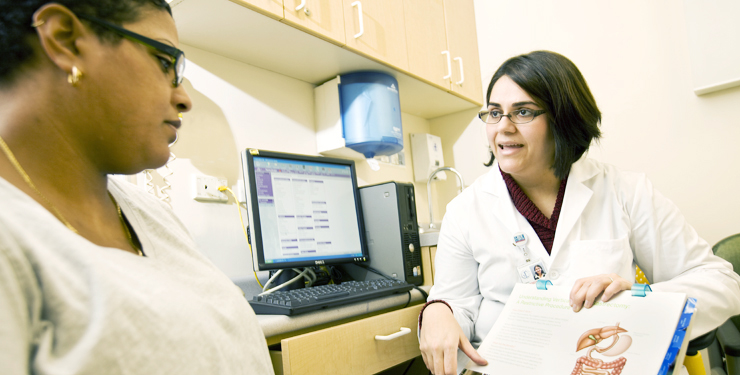 For morbidly obese patients, bariatric surgery (weight loss surgery) may be the key to a new life. Bariatric surgery changes your digestive system to limit how much you can eat or reduce how many calories you absorb.
HHC's three Bariatric Surgical Centers work with you before, during and after the procedure, supporting you through this life-changing experience and extend outpatient care support at the HHC hospital near you.
HHC Bariatric Surgery Program in New York City
If you are morbidly obese—more than 100 pounds over your ideal body weight—you may be considering bariatric surgery. We generally perform this surgery on patients who have:
Health problems because of weight
Been unsuccessful with diet and exercise
If you are a candidate for the surgery:
You undergo a psychological, social and physical evaluation.
We perform the procedure, using minimally invasive techniques that lead to less pain and shorter recovery.
You stay in the hospital for one or two days, returning to your regular activities approximately two weeks later.
During follow-up appointments the HHC hospital in your community, our specialists work with you on nutrition and lifestyle changes.
Types of Bariatric Surgery We Offer
Laparoscopic gastric bypass. We create a small pouch at the top of your stomach that holds food. This limits both the amount you can eat and drink and the calories and nutrients your body absorbs.
Laparoscopic adjustable gastric banding. We place a band with an inflatable balloon around your stomach, adjusting the balloon to fit the band. This restricts the amount of food your stomach can hold but does not affect the calories and nutrients your body absorbs.
Laparoscopic sleeve gastrectomy. Your surgeon removes part of your stomach, forming a smaller stomach with the remaining section. The smaller stomach holds less food and affects your appetite, so you may not feel as hungry. It does not affect the calories and nutrients your body absorbs.
Contact Us
We can help you decide if bariatric surgery is right for you. Contact one of our three bariatric surgical centers.