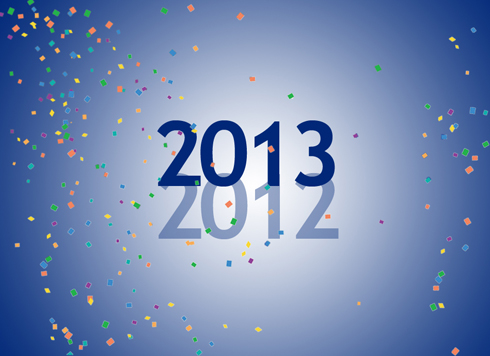 The Year in Buildings
2012 was a busy year for us, implementing new initiatives to drive safe development in New York City and, after Hurricane Sandy, launching an emergency response ― the scope of which was unprecedented in our Department's history.
Enjoy this year-end review, which looks back at our major programs and consolidates the Buildings Bulletins and service notices we issued in 2012.
We look forward to working with you in 2013 ― and stay safe!
---
Hurricane Response + Rebuilding
The Department inspected more than 80,000 buildings in the aftermath of Hurricane Sandy, helping New Yorkers determine whether it was safe for them to return home.
Since the storm, our inspectors have been across the five boroughs, and our experts helped prevent a catastrophe by working to secure a crippled crane above West 57th Street in Manhattan. We've also waived application and permit fees to help people who are now rebuilding.
Online Approvals for Smaller Projects
We expanded the NYC Development Hub! Hub Self-Service now provides easy, online approvals for the City's smallest construction projects ― from office improvements to home renovations.
To learn more, attend an upcoming open house! You'll learn how to use Hub Self-Service, and we can help you enroll. To reserve your spot, email HubSelfService@buildings.nyc.gov or call (212) 393―2850.
NYC Plumbing Code Updated
Mayor Michael R. Bloomberg signed new legislation to update the NYC Plumbing Code. This updated Code recognizes advances in technology and the evolution of materials, acknowledges sustainability and environmental concerns, helps address public health ― and eases bureaucracy to make it easier to build.
New Electrical Code Enforcement
There is a new enforcement structure for violations under the NYC 2011 Electrical Code. The Department can issue Environmental Control Board (ECB) Notices of Violation (NOV) for electrical work not meeting the new Electrical Code.
2012 Build Safe │ Live Safe Conference
This year, the Department expanded its Build Safe │ Live Safe conference to a full day of seminars addressing a host of topics, including 3D Site Safety Plans, which we are now accepting in a new program to improve safety.
This conference kicked off Construction Safety Week, during which we continued the Experience Is Not Enough safety campaign by distributing bracelets and posters to remind workers that they must always use fall protection ― no matter how long they've been in construction.
Borough Commissioners Rotated
We rotated our borough commissioners to increase efficiency, improve productivity, and further standardize our operations.
Martin Rebholz, RA, was promoted to Manhattan Borough Commissioner. Ira Gluckman, RA, is now Brooklyn and Staten Island Borough Commissioner. Derek Lee, RA, has moved to our Queens borough office as Borough Commissioner, and Werner deFoe, RA, continues his service as Bronx Borough Commissioner.
New Deputy Commissioner of Enforcement
Timothy E. Hogan ― former Chief Deputy U.S. Marshal for the Eastern District of New York ― was appointed to serve as the Department's Deputy Commissioner of Enforcement.
Deputy Commissioner Hogan brings more than 30 years of law enforcement experience to Buildings, and he now oversees the Enforcement Bureau, including all emergency and safety operations, complaint inspections, and construction accident investigations.
Get It Done. Together. Solar
We expanded our Get It. Done. Together. program to approve solar PV projects faster! Our senior experts led collaborative, team reviews to bring plans into compliance and launch projects faster.
Habitat for Humanity-NYC
More than 20 Department of Buildings employees volunteered with Habitat for Humanity-NYC to build eight affordable, energy-efficient housing units in the Bedford-Stuyvesant section of Brooklyn ― the third consecutive year the Department participated with the non-profit organization.
Jr. Architects + Engineers Program
We continued Junior Architects and Engineers, our elementary-school program to teach the next generation of designers about the construction process in New York City. More than 500 public school students have participated in the program since 2011.
Simplify Construction Information
Our Construction Information Panel Pilot Program consolidates project information into one, easy-to-understand sign. This new format answers people's questions about upcoming buildings — and makes construction sites look better. The new design combines permit postings, contractor information, and a project rendering.
Service Updates
NYC Development Hub
Status Updates to Owners
Online Payments
Major Projects Program
Acceptance Criteria
3D Site Safety Plans
Overview
How to Submit
Special Inspection Agencies
General Information
Registration Deadline
How to Register
Register Now
Boilers
Inspection Deadline Extended
Elevators
Inspection Deadline Extended
Periodic Inspection Fees
Online Appointment Requests
Cranes + Derricks
Improved Customer Service
Mastclimber Forms
Application Forms
Renewal Procedure
Electrical
Improved Inspection Scheduling
Make Online Payments
Firm Account Statements
Plumbing
Updated Flush Standards
Energy Efficiency
Audits + Retrocommissioning
Benchmarking Reports
Benchmarking Noncompliance
Benchmarking BIN + BBL Information
Pre-filing + Applications Processing
Simplified Process
Code + Zoning Review Requests
Improved Process + New Tracking
Electrical + Plumbing SWOs
Rescission Requests
Exterior Work
Façade Maintenance Inspections
Suspended Scaffold Notification
Work Without Permit + SWO Vios
Overrides, Reductions, Penalty Waivers
PW1 Online Filing
Owner Email Required
New ADA Standards
DOB Permits
Security Gates
New Visibility Standards
NBAT Plan Reviews
Fire Suppression Applications
Place of Assembly C of O Renewals
Requesting Duplicates
Certificates of Operation
Builders Pavement Plans
Inspection Requests
New Plan Review Guide
Pilot Program
Plan Exam Guidelines
---
Buildings Bulletins
2012-011: fire-resistive duct assemblies
2012-010: flexible, double-wall, fuel-oil pipe systems
2012-009: temporary sprinkler installation and compartmentation for buildings undergoing interior alterations
2012-008: cellar that is accessory to residential use, used for non-dwelling
2012-007: post-installed anchors in masonry
2012-006: relining systems installed in existing chimneys and vents
2012-005: gas-fired, direct-vent, space-heating in rooms for sleeping
2012-004: prefabricated parallel chord wood trusses
2012-003: predominantly built-up area bulk regulations for existing residential buildings
2012-002: fuel-gas compressors, duct burners and heat recovery steam generators in cogeneration and combined heat and power projects
2012-001: buffers, interlocks, elevator entrances, wedge shackles, elevator governors and elevator brakes
---
Rules
License Exam Fees
§101-03
Energy Audits + Retrocommissioning
§103-07
Concrete Washout Water + Unsafe Facades
§102-01
Amended Fees
§101-03
Special Inspectors + Special Inspection Agencies
§101-06
HMO Requirements
§104-06 and §104-09
Electrical Code Violations
§102-01
Elevators - No Machine Room
§3610-02