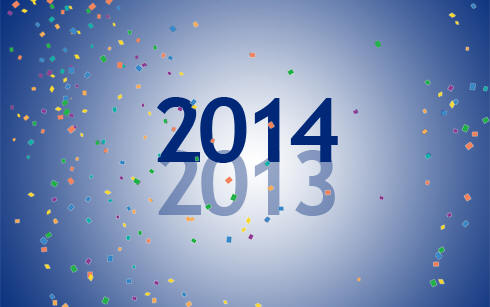 The Year in Buildings
2013 was a busy year for us, implementing new initiatives to drive safe development in New York City and fostering innovation in the Department and the construction industry. Learn more about all that we have accomplished in our new report Building New York: A Strategy to Improve New York City Construction and Development (Flash or PDF).
Enjoy this year-end edition of Buildings News, which looks back at our major programs and consolidates the Buildings Bulletins and service notices we issued in 2013.
We look forward to working with you in 2014 ― and stay safe!
---
NYC Development Hub Expansions
We expanded the NYC Development Hub, the Department's state-of-the-art project approval center, to offer new services! Hub Full-Service extended the convenience of digital plan reviews to minor alterations, and our Hub Self-Service now allows for additional online After-hours Variance applications. Plus, Hub Inspection Ready is in the works for 2014 ― and it will improve our inspection scheduling process.
Hub Self-Service: After-Hours Variances (AHVs)
Hub Self-Service: AHV Renewals by Filing Reps
NYC Development Hub Enrollment
New Team Dedicated to Hudson Yards Area
The newly created West Side Safety Team will coordinate oversight of cranes and derricks, excavation, scaffold and construction hoist work! New Building, major alterations and demolition projects in the Hudson Yards area may opt in to participate.
Learn More + Opt into the Program
New Construction Fence + Shed Signs
New signage, color and viewing panel requirements are now in effect for construction fences and sidewalk sheds. The new standards apply to fences and sheds with permits issued on or after July 1, 2013. The new signs improve construction site safety by providing easy access to contractor and project information ― and the new requirements improve the overall appearance of job sites for communities.
New, Free Mobile App
We launched a new smartphone app that gives New Yorkers easy access to information about nearly 1 million properties throughout the City. Plus, users can receive alerts about our new services and warnings about inclement weather. More than 10,000 people have downloaded it!
New Classes of Filing Representatives
There are now two classes of filing representatives: Class 1 Filing Representatives and Class 2 Code and Zoning Representatives. Applicants are required to complete Department-approved training, which the Department is currently providing at no cost.
Read About Training + Registration
Becoming a Class 1 or 2 Filing Representative
2013 Build Safe │ Live Safe Conference
We kicked off the annual Construction Safety Week on April 29 with our sold-out Build Safe | Live Safe Conference at the New York Marriott Downtown. At the conference, we announced the results of Operation: Low Rise, a two-month inspection sweep of low-rise construction sites throughout the City.
We're in the Hall of Fame!
Our Assistant Commissioner of Engineering and Emergency Operations Michael Alacha, PE, and Assistant Commissioner of Investigative Engineering Services Timothy Lynch, PE, were honored in Vanity Fair's Hall of Fame! The magazine describes their dramatic, heroic measures to secure the Hurricane Sandy-damaged crane that dangled above West 57th Street.
Plus, Engineering News Record named Michael one of the top 25 newsmakers for his efforts during and after the hurricane.
New Assistant Commissioner Robert Fodera, Esq.
Robert Fodera, Esq., has been appointed as our new Assistant Commissioner of Administrative Policy and Enforcement and is overseeing our Administrative Enforcement, Licensing, Borough Enforcement, Signs and Padlocks, and Special Enforcement Units. He will help develop new ways to strengthen our enforcement against property owners and contractors who are flouting the law, threatening New Yorkers' safety.
First Department Building Marshal Appointed
Salvatore Agostino has been appointed to serve as our Department's first Building Marshal, having risen through the ranks of the Office of Internal Audits and Discipline. Building Marshal Agostino will oversee various investigative and enforcement initiatives, pursue negligent property owners and coordinate the Agency's investigations of major cases against unlicensed contractors who perform illegal work. He will also be the primary enforcement liaison between the Department and other City agencies.
Jr. Architects + Engineers Program
We continued Junior Architects and Engineers, our elementary-school program to teach the next generation of designers about the construction process in New York City. More than 500 public school students have participated in the program since 2011.
2013 Commissioner's Awards for Excellence
Mayor Michael R. Bloomberg and Commissioner Robert D. LiMandri presided over the 2013 Commissioner's Awards for Excellence, the Department's annual ceremony held at The Cooper Union in Manhattan. At the event, 93 department employees were honored for their work in protecting New Yorkers during construction operations and after Hurricane Sandy, as well as facilitating safe development across the City.
Manhattan Plan Examination Office
We now have more space for appointments, which will foster better collaboration with design professionals. Plus, we'll ultimately incorporate new technology into the review process.
Service Updates
3D Site Safety Plans
Guidelines + Revit Objects for BIM
Electrical
Electrical Advisory Board
Energy Efficiency
Benchmarking Reports
Filing Energy Efficiency Reports
Energy Efficiency Report Deferrals
Registering as an Energy Auditor/Retro-commissioning Agent
Pre-filing + Applications Processing
Requesting Payment Refunds
Exterior Work
Scaffold Safety Team
Engineers
Stationary Engineers + Safety Registration
Place of Assembly C of O Renewals
Local Law 2/2013
Rebuilding After Sandy
Legislation Guide
---
Codes Update Pages
New 2008 Construction Codes Update Pages Now Online
#72 – LL 2/13: Place of Assembly (Administrative Code Chapter 1; Building Code Chapter 31)
#73 – LL 4/13: Waiver of application, permit and inspection fees for certain work (Administrative Code Chapter 1)
#74 – LL 29/13: Raising and moving buildings (Administrative Code Chapter 1; Building Code Chapter 17)
#75 – LL 47/13: Construction fences and sidewalk sheds (Administrative Code Chapter 1; Building Code Chapter 33)
#76 – LL 51/13: Permit and inspection fee waivers for Hurricane Sandy-related electrical and plumbing work (Administrative Code Chapter 1)
#77 – LL 82/13: Amends Admin. Chapter 1 (Administration) in creating a manual on flood construction and protection standards
#78 – LL 83/13: Amends Plumbing Chapter 7 (Sanitary Drainage), Chapter 11 (Storm Drainage), and Building Code Appendix G (Flood-Resistant Construction) in preventing sewage backflow
---
Buildings Bulletins
2013-017: filing a certificate of approval application for a tower crane
2013-016: acceptable use of Rigid Nonmetallic Conduit for service-entrance conductors
2013-015: rescinds past Technical Policy and Procedure (TPPNs) that are no longer applicable
2013-014: process of submittal and permitting of the projects that require Structural Peer Review
2013-013: inspection requirements related to raising, lifting, elevating or moving buildings
2013-012: clarifies 2008 Code and 1968 Code requirements with regard to fire alarm equipment and panels, data gathering panels, terminal transmission boxes and all associated writing in stair enclosures
2013-011: pre-storm planning for construction sites
2013-010: establishing yoga studios
2013-009: attendant-operated automobile parking lifts
2013-008: flexible fuel-oil piping systems as alternative materials
2013-007: clarifies the term "approved" as it pertains to materials
2013-006: work involving fuel gas distribution piping located within fire-resistance-rated construction in existing buildings undergoing alterations, replacements and repairs
2013-005: hostel-type accommodations are considered to be illegal rooming units
2013-004: acceptance criteria for gas-fired direct vent space-heating appliances used for providing heat in rooms for sleeping purposes
2013-003: acceptance criteria for polypropylene (PP) piping systems in hydronic piping, irrigation systems and water recycling distribution piping systems
2013-002: design and acceptance criteria of externally bonded fiber-reinforced polymer (FRP) systems for structural repair and upgrade of concrete and masonry elements
2013-001: kitchenettes and minimum dimensions for living room and habitable space in multiple dwellings
---
Rules
Illegal Hotels §102-01
Construction of Buildings in Special Flood Areas §3606-04
Energy Code: Compliance and Report Filing Fees §101-03
Registered Filing Reps §104-24
Façades §103-04
Special Flood Areas §3606-04
Retaining Walls §103-09
Structurally Compromised Buildings §102-03
Course Providers §105-03
Energy Auditor and Retro-commissioning Agent Registration Fees §101-03
Boiler Inspections Rules Amendment §103-01