2013 Commissioner's Awards for Excellence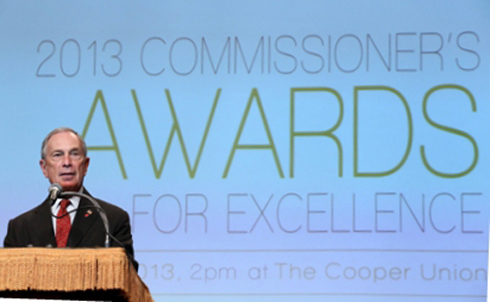 Mayor Michael R. Bloomberg and Commissioner Robert D. LiMandri presided over the 2013 Commissioner's Awards for Excellence, the Department of Buildings annual ceremony held at The Cooper Union in Manhattan. At the event, 93 department employees were honored for their work in protecting New Yorkers during construction operations and facilitating safe development across the city in the past year. Three of the nine awards recognized the Department's work in the aftermath of Hurricane Sandy, as inspectors and engineers led the largest inspection initiative in City history with more than 80,000 inspections.
---
Hub Self-Service Expanded: Online AHVs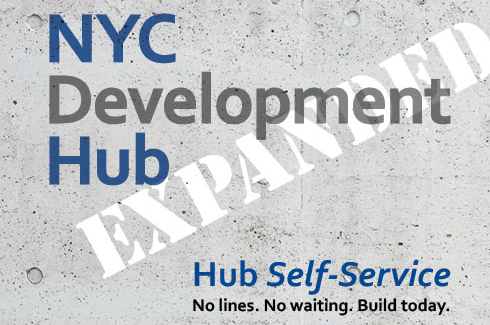 Hub Self-Service now allows architects, engineers, filing representatives and contractors to apply online for initial After-hours Variances. Now there's no need to visit the Department to apply, pay fees or obtain AHVs!
---
No-Penalty Deck + Porch Inspections
The elements and seasonal weather changes can undermine the stability of decks and porches ― and the Department is performing free, no-penalty inspections through August 1. This is the fourth consecutive year the Department has offered these free inspections, helping ensure that New Yorkers enjoy a healthy and safe summer season.
---
New Rules + Effective Dates
Retaining Wall Inspections, Penalties + Waivers Effective 07.24.13
Construction of Buildings in Special Flood Areas Effective 05.31.13
Inspection of Potentially Structurally Compromised Buildings Effective 06.30.13
Filing Representative Rules Effective 04.14.13
Energy Efficiency Reports + Energy Code Compliance Review Effective 03.31.13
Illegal Hotels - New Violation Charges Effective 03.29.13
Service Updates
Payment Refunds
Submitting Requests
Electrical Advisory Board
New Location + Submission Process
Scaffold Safety Team
Corner Scaffold Pre-inspections + Third Person on Scaffold Letters
Filing Representatives
Becoming Class 1 or 2
Renewing Registration
1 RCNY 104-24
AHV Renewals
PW1 BIS Search
Special Inspection Agencies Registration Requirement
Deadline Information
Place of Assembly COs
Recent Changes
New Payment Methods
NYC Development Hub
Electrical Firms
Monopoles
Installation + Maintenance
---
Bulletins
2013-008 supersedes 2012-010 to establish acceptance criteria for flexible fuel-oil piping systems.
2013-007 clarifies the term "approved" as it pertains to materials.
2013-006 establishes procedures for work involving fuel gas distribution piping within fire-resistance-rated construction in existing buildings undergoing alterations, replacement and repairs.
2013-005 clarifies that hostel-type accommodations are considered to be illegal rooming units (except for certain grandfathered units, and units operated by nonprofits and City agencies).
2013-004 establishes acceptance criteria for gas-fired, direct-vent, space-heating appliances used to heat rooms for sleeping (superseding Bulletin 2012-005).
---
Did You Know...?
Our newly renovated Manhattan Borough Office's Plan Examination is open for service! We have more space for appointments and easier collaboration with design professionals. Plus, we'll ultimately incorporate new technology into the review process.
And, the renovation of our Cranes and Derricks Unit's offices is complete. C+D will be back in operation in its renovated, 5th offices at 280 Broadway on Monday, July 1.